Movie Review: Cloudy With a Chance of Meatballs 2
By Troy Ribeiro (Rating: 2.5/5)
With its appealing spread of animated "foodimals", animals made entirely of food, in an array of contrasting colours, "Cloudy With a Chance of Meatballs 2" is an entertaining tale of recognition, adventure and commitment that would appeal to kids.
The film takes off from where its first edition, released in 2009, left. Nevertheless, it is not a must to view the earlier edition, since the trail of events are explained and the film is clear on its own.
The narration trails an inspired and ambitious inventor, Flint Lockwood (Bill Hader), who is in awe of a celebrated scientist, Chester V (Will Forte).
Flint is keen to join Chester V's company Live Corp as a 'Think-o-nought' scientist. But the scheming scientist has other ideas. He plans to steal Flint's previous invention, a machine that converts water into food, which was thought to be destroyed but is now actually creating havoc in the ecosystem by churning out, "living food" creatures.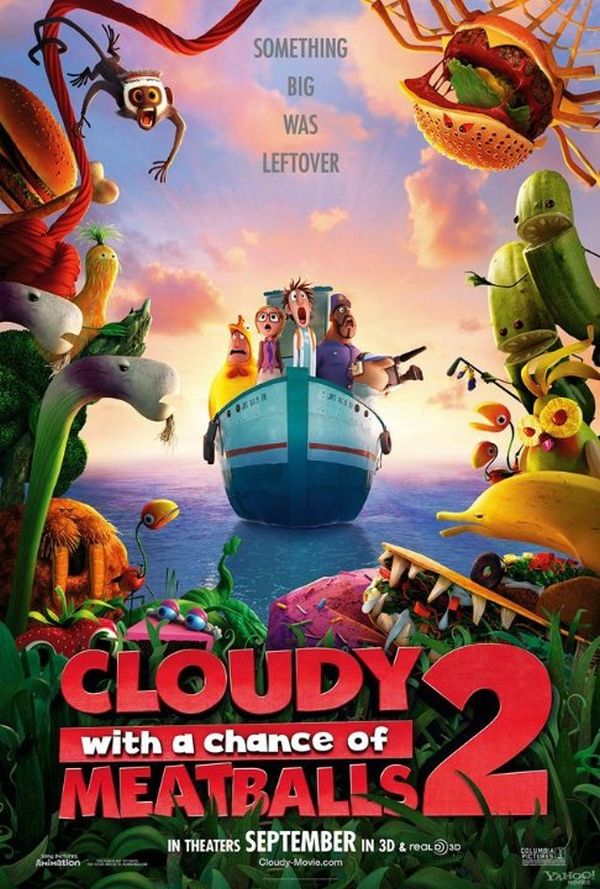 Chester V does this by poisoning Flint's mind about his father (James Caan) and friends – the brave meteorologist sort-of girlfriend Sam Sparkwood (Anna Faris); the gruff, by-the-book town cop (Terry Crews); and the comical Steve (Neil Patrick Harris), the talking monkey.

He tells Flint: "Your friends are distracting you from the mission. Be focused to be a hero." And Flint ponders.

Directors Cody Cameron and Kris Pearn's "Cloudy With a Chance of Meatballs 2" delivers a crazy adventure with some interesting "foodimals" or food monsters like Tacodile, a crocodile resembling creature made from tacos, Watermelophants, Shrimpanzees, Apple-pie-thon, Flamangoes, Cheese Spiders, Spring Onions, Cucumbers and other interesting dessert creatures.

These animations are unique and extraordinarily dramatic, making it a visual delight. Unfortunately, the 3D effects really do not elevate the viewing experience.

The aptly matched voices rendered by the cast add a bounce to the characters. The speech is cleverly written. Pun-filled dialogues like, "My word is a hologram", and "There is a leek (leak) in the boat" cheekily caters to kids.

Though the film is based on an interesting concept of "foodimals", the storyline with its twist and turns is devoid of intelligence and emotion. The scheme of events is very familiar and there is hardly any incident that can be quoted as the most original.

The narration meanders from a clever sophisticatedly created sci-fi setting to a frivolously inconsequential "Jurassic Park" caricature which further converges into an exciting "Avatar" style nature versus machines battle.

Overall, with a generic villain and robot henchmen and world domination goals, "Cloudy With a Chance of Meatballs 2" is a children-centric film that lacks the punch.

Voiceovers by: Bill Hader, Anna Faris, James Caan, Will Forte, Kristen Schaal, Terry Crews, Andy Samberg, Neil Patrick Harris and Benjamin Bratt
Director: Cody Cameron and Kris Pearn

No Related Pages Found: