An exquisite range of designer gold jewellery suited for different occasions. Every occasion has its unique 'gold' need and keeping this in mind, World Gold Council in association with Vicenza Fair International, AngloGold Ashanti and D'damas Gold today unveiled the 'Gold Expressions' 2008 collection. This exclusive range of Italian designer jewellery fulfills the myriad needs of today's woman with its classy designs and esthetics.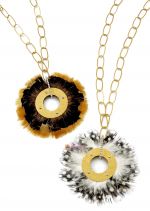 The exquisite jewelery pieces enhance a woman's feminity through a perfect mix of fashion, modernity and grace.
The stunning pure gold designs have been crafted by Italian goldsmiths and has created a phenomenal reputation for Gold Expressions worldwide. With Gold Expressions, World Gold Council and D'damas bring together the best of Italian radiance and legendary design that translates into jewelery that is appealing on a more profound and emotional level.
This year's collection has 4 themes – Spiritual Rituality, Legendary Stories, Radical Gender and Architectural Landscape. These profound categories have inspired jewellery that is synonymous with celebrated Italian finesse, reiterating the aesthetic value of the yellow metal. These designs are specially created for today's woman suited to wear at various occasions. Women love to dress up for their kitty party and take utmost care to coordinate their jewellery with what they wear, Gold Expressions with its wide range offers the perfection solution to them.
This collection is also for women who want to look sensational, yet feel sporty and confidant. Ethnic, traditional and yet very modern gold jewellery for weddings, sangeet, social functions and a formal occasion are all under the Gold Expressions 2008 collection.