(Photos) Shobha Asar opens third boutique at Khar, Mumbai. After the successful launch of its boutiques in Worli and Hyderabad, jewellery design house, Shobha Asar, opened its third boutique to cater to Mumbai's suburban crowd. The boutique located at Pooja Apt, Ground Floor, S.V. Road, Khar (W), Mumbai 400054, Tel: 22 6675 1111, promises to be a haven for jewellery lovers. The boutique will showcase the entire range of jewellery; highlight being the new collection "Poise & Passion". The contemporary yet classic combination of aquamarine and tourmaline symbolizes the perfect balance of opposites – meditative calm meets desire. Its cool, chic, and casual charm makes it the choice of the diva, the star performer, the leader and the intellectual.
The boutique, in signature Shobha Asar style, is classy yet minimalist and has been done up in Italian marble and walnut to give it a stylish feel. The 2200 sq ft boutique is a non-conventional designer approach to showcasing exclusive jewellery for the elite. High ceilings and tranquil décor, beckons the clients, who are then attended to in separate rooms and treated to a personal viewing of the jewellery, to their taste and style.
Kareena Kapoor was guest of honour who wore stylish Shobha Asar chandelier earrings set in diamonds and emeralds . The ceremonial diya was lit by Shobha Asar with daughter in law Kalpana and Kareena jointly. Haresh & Shobha Asar with son Siddarth Asar and his wife Kalpana played hosts to a bevy of celebs including Bhavana Pandey, Anjali Mariwala, Anupama Verma, ShibaniKashyap, SharonPrabhakar, Zarina Wahab, Aseem Merchant, Neeta Lulla, Ashish Balram Nagpal, Nina Manuel, Pria Kataria Puri etc. Guests mingled over wine cheese , sushi and canapés.
I have seen and admired jewellery by Shobha Asar and am particularly fond of these chandeliers that I am wearing, perfect for an evening out. Diamonds remain my favourite and Karishma's as well and I prefer designs that are elegant and classic whilst exuding style, said Kareena Kapoor.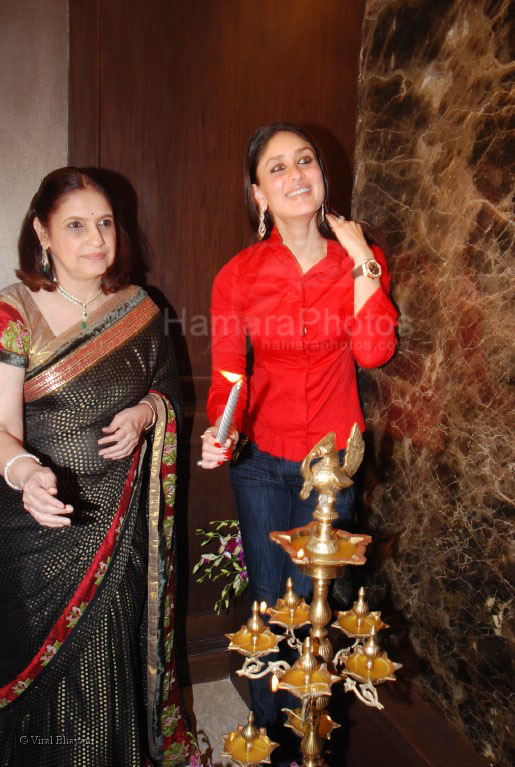 Kareena Kapoor at Shobha Asar's boutique launch in Mumbai
Kareena was the perfect choice to launch poise and passion our new line since she epitomizes both perfectly. The line is contemporary yet classic a combination of aquamarine and tourmaline to symbolize the perfect balance of opposites – meditative calm meets desire said Kalpana Asar.
The setting is very personalized to meet each individual client's requirements. The lighting is subtle in keeping with the décor and yet highlights the jewellery when displayed. The showroom is a visual treat of contrasts. It is sober yet elegant, beautifully designed with a refined yet chic and modern feel. The Shobha Asar experience continues to evolve with this boutique; the act of selling jewellery is translated into an art. An experience in itself, this elegant boutique offers privacy with luxury as qualified staff to attend to clients. From the moment one enters the boutique under the grand chandelier, to the time they exit, Shobha Asar ensures that they feel special at all times.
Welcome to Shobha Asar. Where jewellery is a fine art and a whole new experience in luxury.