Pankaj Udhas and Bhupinder Singh and Mitali Singh at Ghazal Festival in Mumbai on 30th July 2016.Ghazal Maestro Pankaj Udhas, Talat Aziz, Bhupinder Singh and Mitali Singh, Rekha Bharadwaj, Suresh Wadkar and Anuradha Paudwal and Kavita Paudwal , Penaz Masani and Sudeep Banerjee performed together for the cause at khazana Ghazal Festival.
On Friday, as the rain poured with all its might, soulful ghazals stirred feelings of romance, love and ecstasy, as Bhupinder Singh and Mitali Singh , Talat Aziz , Rajkumar Rizvi and Neha Rizvi , Suresh Wadkar and Anuradha Paudwal and Kavita Paudwal belted out one ghazals after the another at Khazana Ghazal Festival at Hotel Trident, Nariman Point.
Ghazal maestro Pankaj Udhas and Y.K.Sapru from cancer patients who all are actively involved in charity and social work for the cancer and Thalassemia patients from last 14th years brought the talents together to raise funds for the cause.
Bhupinder Singh and Mitali Sing both sang 'Dil Dhoondta Hai, Ek Akela is Shaher Mein, Kisi Nazar Ko Tera Intezaar, Huzoor Is Qadar' tugging the heart strings of listeners.
Talat Aziz showed gratitude to the Pakistani Ghazal genius Mehdi Hassan. as he sang some of his favorite songs. Suresh Wadkar was at his best he sang aye Zindagi gale laga le and surmayi sham, whils Kavita Paudwal and Anuradha Paudwal sang some of her mother anuradha paudwal best songs
On Saturday the audience experienced the rich and vibrant performances of Pankaj Udhas, Anup Jalota, Rekha Bhardwaj, Penaz Masani, brothers Ahmed and Mohammed Hussian, who also performed for the same cause. Other artist including Sudeep Banerjee, Runa Rizvi Sivamani and Sumeet Tappoo, Sraboni Choudhuri and Amrita Chatterjee and also young artist Alap Desai and Pooja Gaitonde Performed at this music festival.
Other celebrities including Salim Aarif and Lubna Salim, Bina Aziz, ,Gino banks and Eden, Sheldon Disilva Y.K Sapru , Rekha Sapru , Vetern Ghazal Singer Rajkumar Rizvi and His Wife , Pankaj udhas wife Farida Udhas and daughter Nayaab and Rewa Udhas were present during the occasion.
Anup Jalota
Anuradha Paudwal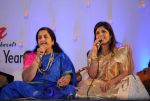 Bhupinder Singh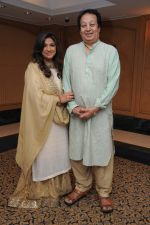 Art Events
Mitali Singh
Pankaj Udhas
Peenaz Masani
Rekha Bharadwaj
Suresh Wadkar
Talat Aziz