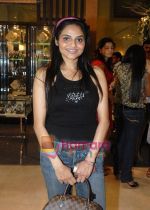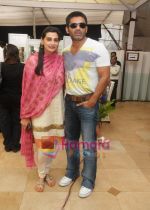 ARAAISH PRESENTS ITS FIRST JEWELRY EXHIBITION- Crème de la crème of Jewelers Come Together In Support. Araaish held its first Jewelry Exhibition to support the Save The Children India foundation' on October 6th 2009 at Blue Sea, Worli, presented by Yes Bank.
Hosted by siblings Mana Shetty, Rahul Kadri and Isha Mehra in memory of the late Mrs. Vipula Kadri ,their mother and founder of Save The Children, India the exhibition was every girl's best friend, bringing together the worlds of 'glamour and giving'.
Araaish saw some of the most renowned Jewelry designers presenting their exquisite jewelry collections to support the charitable cause. Participants include the likes of Pebbles Collection by Queenie Dhody, Maheep Kapoor-Ceres , Rose, Renu Mehra, Aparna Chudasama- Fuschia Jewels, Neelam Jewels, Alpana Gujral, TBZ Nirmal Zaveri , Amrapali – Jewels For Royalty, Vipul Arts, Lalchand Jewellers, H Ajoomal Fine Jewellery, Sangeeta Javeri , D. Popli & Sons, Rambhajos Diamond And Kundan Jadau Jewellery , Rewa International etc.
Mana Shetty , Isha Mehra, Bindu Rana Kapoor of Yes Bank played hosts to guests such as Raveena Tandon, Gautami Kapoor, Suneil Shetty, Celina Wadia, Elina Meswani, Madhoo Shah, Bejal Meswani, Nitasha Nanda, Seema Khan, Bhavna Pandey, Madhoo Nair, Sheetal Mafatlal, Malini Agarwalla, Devieka Bhojwani, Maheep Kapoor, Neelam Kothari, Nandinii Sen, Sunaina Vahi, Aparna Chudasama, Alpana Gujral, Nirmal Zaveri, Meera Zaveri, Vanita Bhandari, Ashika Poohumall, Munira Chudasama, Akansha Aggarwal, Dolly Thakore, Arti Surendranath, Kavita Singh etc
Said Mana Shetty, "We are excited to announce the first Araaish jewellery showcase Every woman longs for choice when picking up her festive jewellery annually and what we have attempted is to bring all the best jewellers under one roof to make decisions simpler. In Mumbai, the funds raised will go a long way to secure our children's futures."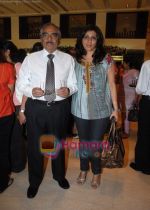 Queenie Dhody's contemporary and fashionable pebble collection comprises of semi precious stones set in gold with diamonds. Maheep Kapoor for Ceres , has created a wonderful range of diamond jewellery affordable for Araaish. Designers Alpana Gujral and Neelam Kothari offer unique jewelry pieces for the festive season ranging from earrings, bracelets, kadas to complete sets. Renu Mehra handcrafts precious stones, pearls and diamonds to create elegant & simple Jewellery designs that can add glamour to any ensemble. Vipul & Nisha Jain introduce an unusual line of jewelry, combining wood and Bakelite, leather entwined with diamonds and real leaves with pure Gold. Aparna Chudasama specializes in hand crafted diamond jewelry as well as Gold and Jadav jewelry. She uses different materials like wood, resin, Bakelite, mother of pearl to create exquisite pieces of jewelry that range from bridal to casual wear. Lalchand Jewelers latest designs boast of stunning rose cut diamonds of brilliant sheen, along with delicately set fiery red rubies and emeralds. TBZ Nirmal Zaveri, with a glorious history of 140 years of superior craftsmanship behind them have once again created mesmerizing designs using only the rarest and purest diamonds.
" Education is growth, and Save The Children India is doing great work with their special kids by providing them a platform to learn, Araaish is the perfect platform for the 'haves' of the society to extend a helping hand to the have-nots, "Maheep Kapoor.
"There is a universality to this issue which resonates with me. I feel strongly that aware members of society need to support and contribute to this cause." Says Alpana Gujral .
"Araaish would be a very good platform to showcase my new collection as it would be attracting a lot of different people other than the usual clients." Says Neelam Kothari.
Says Aparna Chudasama "Araaish offers me a wider platform to reach out to people. As it has a social angle, the participation is all the more meaningful. Both the sisters, Iha and Mana, have taken the onus of carrying forward what their mother started, and they are doing an exceptional job. I will always love to be associated with Save The Children as it is doing a great service to our future generation."
Queenie Dhody, " I pledge my support to Save the children India to collect funds towards vocational training programs with an aim to making adolescent girls self sufficient and economically independent members of society. The Jewels by Queenie range hopes to contribute in a small way toward preserving jewels for the generations ahead in India."
As Araaish is a part of Save The Children India, Mr Samrat Zaveri, believes that every child should be given the basic right to education which which would help them achieve a better life.
YES BANK, India's new age private sector Bank, has today announced the launch of YES FIRST for Women, a premium wealth management product offering aimed at providing superlative financial solutions and exclusive privileges to High Networth women, with a Superior Customer Experience.