US-based Indian actor Freida Pinto, who found fame with the Oscar winning "Slumdog Millionaire", says "strong female characters" are more important than female stars taking place of leads in films. She is glad the concept is re-emerging in Indian cinema.
There is a common thread that ties Freida's films like "Slumdog Millionaire", "Miral" or "Trishna" together and that is the presence of strong female characters.
Freida opened up about the changes in Indian cinema during a session with director Rakeysh Omprakash Mehra and actor Anil Kapoor at the ongoing 17th edition of the International Indian Film Academy (IIFA) extravaganza here.
She said:
Since I don't necessarily work in Bollywood, I can give you my views as a spectator about Indian films. There has been a great shift. When I was launching Girl Rising India last year, that's when nine wonderful Bollywood stories came on board to tell stories about India.

I feel with films like Priyanka Chopra's 'Mary Kom', Kangana Ranaut's 'Queen', I definitely feel that there will be more female protagonists taking over the lead and it has actually helped people understand on the grassroots level as well.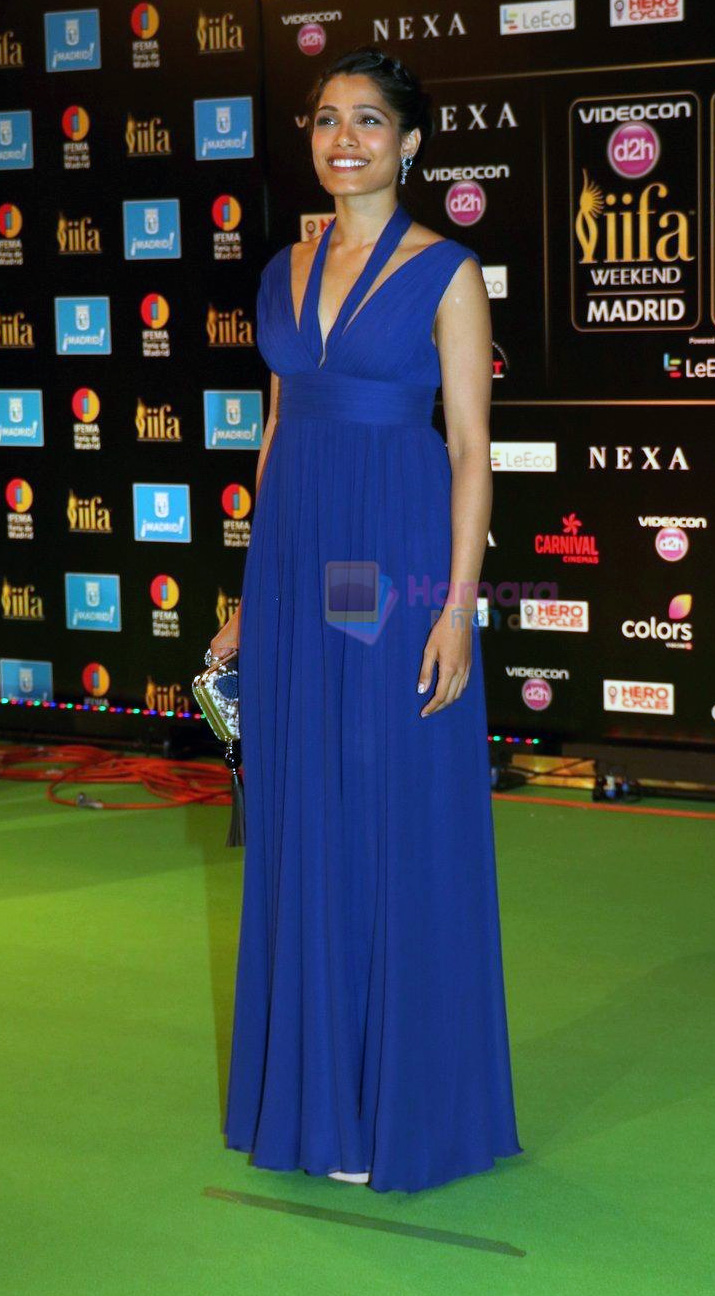 Having said that, Freida emphasised that it is the depth of the role that matters the most.
It is not just about female characters taking the lead in a film, but strong female characters also matter. My dad loved Shabana Azmi's work and Smita Patil's films – these are strong women.

I feel 1990s had a slight lack of (strong) female characters. I see resurgence of it now. Acceptance from audience makes it easier to make change at grassroots level. Definitely the change is happening.
In the short span of her career in the entertainment industry, this Mumbai-born girl has carved out a niche of her own in world cinema through her roles in films like "Slumdog Millionaire", "Miral", "Day of the Falcon", "Immortals", "Desert Dancer" and "Rise of the Planet of the Apes".
She has also done her bit for society — be it aligning with a social cause like the "Girl Rising" campaign or getting together with female stars for a production house to solve the issue of gender disparity in Hollywood.
The actress says all her "life-changing experiences" started from India.
My social change and life experience also started in India in 2012 when I was shooting for 'Trishna'. And as part of research of my film, I went to rural Rajasthan. The country is so diverse.
Freida also shared that
we want to tell stories that are interesting but we also want to tell stories that can probably make you think and generate interest about what else we can do with this beautiful weapon called storytelling.
When it comes to those kind of stories, Freida says budget "doesn't really matter".
As long as story is great, I am game for it…I am focused on women-driven films.
She questions – "Who say you can't make films in limited budget?"
It is possible that some of the best films in India have small budgets. It is for actors and technicians to come willingly to take pay cut. We can't make revolutions without making few sacrifices and these are the few sacrifices you have to make.