By Subhash K. Jha
Basking in the terrific response to her performance in "Queen", model-turned-actress Lisa Haydon says the success of "Queen" has helped her to enjoy her stay in filmdom.
Directed by Vikas Bahl, the film stars Kangana Ranaut in the lead role along with Rajkummar Rao and Lisa.
Kangana and I have spoken about our karmic connection. We both did a film called 'Rascals' two years ago and we both felt like fish out of water. The film was an agonizing experience for both of us. And now we're both feeling a sense of triumph and euphoria after Queen. It's amazing
said Lisa, 27.
Lisa, who was also seen in "Aisha", admits she was tempted to call it quits after Rascals.
I realized I was not cut out to be a conventional Bollywood heroine. After 'Rascals', I thought I was not going to last over here.
In that hour of despair came a glimmer of hope in the form of Vikas Bahl.
It was god-sent. Vikas came in with the free-spirited Vijay Laxmi's part at a time when I had reached a deadend in my movie career. Doing item numbers in revealing clothes was not what I was cut out to do.
She plays bohemian single mother Vijay Laxmi in "Queen" and said:
I didn't know such a character existed in Bollywood cinema. Vikas actually tailored the role to suit my personality. This is not to say that Vijay Laxmi wasn't interesting the way she was. She was a wild child, a single mother who drinks hard and swears hard. She is nothing like what audiences in our country expect our female characters to be.
And yet audiences have embraced Vijay Laxmi's other-ness wholeheartedly.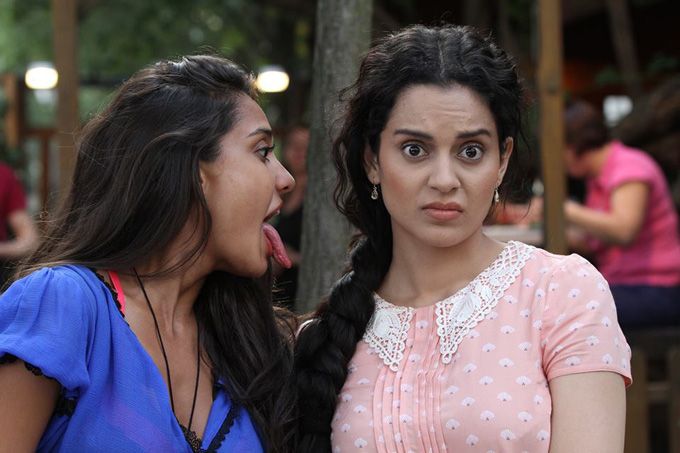 Lisa can't believe the adulation she is getting.
I am currently doing city tours of 'Queen'. The film's popularity is growing by word-of-mouth, and so is the reach and appeal of Kangana and my character
said Lisa who makes no bones about the fact that the script has an author-backed role for Kangana. Now Lisa is engrossed in gathering compliments from the debris of her nearly-shattered film career.
I have to confess it feels good, specially when a girl came up to me and said, 'I thought only I was like that. Then I saw you in 'Queen' and I realised there was someone else exactly like me.' My God! That was an out-of-body moment.
Her Catholic family is not much into Hindi films. But they saw "Queen" and loved her performance.
The thing is, my family is not fluent in Hindi. Neither am I. But I am working on my language. You'd be happy to know I've dubbed all my Hindi lines in my next film Akash Deep's 'Santa Banta' on my own. But to my family the Bollywood Hindi is pretty alien. So they saw 'Queen' with skepticism. To my surprise, they loved the film and my character. They went back again to see the film. That was the moment when I realised we had done something special in the film.
What Queen has given back to Lisa is her self-worth.
I felt I was a misfit in Bollywood. I couldn't connect with the things that I was required to do. I felt my personality was too peculiar to blend in Bollywood. 'Queen' has taught me to celebrate my special-ness, my uniqueness. Yeah, I am not like other Bollywood heroines. And I am comfortable with that now.
She pledges not to do any role that doesn't connect with her personality.
After 'Queen', I need a role and a character that is equally special. I can wait for it to come. I am in no hurry.
Lisa looks back at her struggle in Bollywood with no bitterness.
Struggle is a good thing. It helps you to appreciate the success and recognition when they come. I don't want anything to come easily to me.