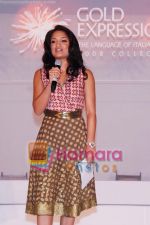 An exquisite range of designer gold jewellery suited for different occasions. Every occasion has its unique 'gold' need and keeping this in mind, World Gold Council in association with Vicenza Fair International, AngloGold Ashanti and D'damas Gold today unveiled the 'Gold Expressions' 2008 collection. This exclusive range of Italian designer jewellery fulfills the myriad needs of today's woman with its classy designs and esthetics. The exquisite jewellery pieces enhance a woman's feminity through a perfect mix of fashion, modernity and grace.
The stunning pure gold designs have been crafted by Italian goldsmiths and has created a phenomenal reputation for Gold Expressions worldwide. With Gold Expressions, World Gold Council and D'damas bring together the best of Italian radiance and legendary design that translates into jewellery that is appealing on a more profound and emotional level.
This year's collection has 4 themes – Spiritual Rituality, Legendary Stories, Radical Gender and Architectural Landscape. These profound categories have inspired jewellery that is synonymous with celebrated Italian finesse, reiterating the aesthetic value of the yellow metal. These designs are specially created for today's woman suited to wear at various occasions. Women love to dress up for their kitty party and take utmost care to coordinate their jewellery with what they wear, Gold Expressions with its wide range offers the perfection solution to them.
This collection is also for women who want to look sensational, yet feel sporty and confidant. Ethnic, traditional and yet very modern gold jewellery for weddings, sangeet, social functions and a formal occasion are all under the Gold Expressions 2008 collection.
Speaking on the new collection from Gold Expressions, Ajay Mitra, Managing Director, Indian Subcontinent, World Gold Council said, "Since its introduction in the Indian market by World Gold Council, the creative reputation of Gold Expressions precedes it, proving to be a successful venture in India. In India, Gold Expressions fulfills the growing demand for contemporary, innovative, versatile pieces of gold jewellery. World Gold Council believes that the promotion of such innovative designs will further fuel consumer growth for the entire gold jewellery category."
Speaking on the occasion Mr. Mehul Choksi, Chairman Gitanjali Group / of D'damas said, "Gold Expression is an attempt to celebrate a woman's achievement in a modern and stylized way. D'damas is the sole retailer of Gold Expression in India. Gold Expressions is amongst the best selling brands by D'damas, I'm confident that the new range unveiled today will also fancy the Indian woman, and help enhance her beauty."
By indulging in designs of valued substance, Gold Expressions creates high end jewellery that has universal appeal. Gold Expressions shines a spotlight on the additional value of Italian goods and reflects Italy's role as a crucial reference point for international gold jewellery.
Following the international launch of Gold Expressions 2008 in Italy in Jan 2008, the collection had commenced on an extensive world tour featuring trade and consumer promotional activities to commercialise the collection in the most important markets for gold including the Far East, India, the Middle East and the United States. This year Gold Expressions was also be launched in Russia for the first time last month.