Rahul (Anuj), Rocky (Sameer), Amay (Farid), Priya (Pinky Harwani), Antara (Hrishita) and Zoha (Madhuri Bhattacharya) were best of the friends in Pune University. It's been three years since they passed out and parted ways…they all were completely out of touch, being busy in their respective careers…Now Rocky is getting married in Goa with his two year old girlfriend Marianne (Sanda Caktas) who is from Croatia and is working as a lifeguard…this is the time of reunion…old friends reunite to join Rocky on his wedding in Goa.
Things are not the same with Rahul, Priya and Zoha…their personalities have changed, their ideologies have changed, their commitments and goals have changed while Amay and Antara are just the same… as they set off on this trip, things start coming out in the form of conversations and activities… they all witness Marianne backing away from the commitment of marriage leaving Rocky bereft. What happens next is what the rest of the film all about.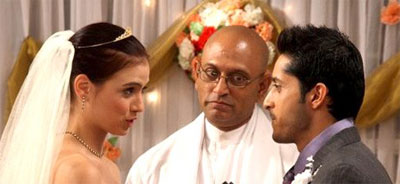 A young theme with a young set of decent actors with a plot many youngsters today can identify with makes 3 Nights 4 Days an interesting watch. The dialogues are funny at places. The pacing is even but a few songs could have been done away with in the first half.
Production values are good irrespective of the fact that film doesn't star big names. Devang Dholakia deserves a pat on his back for making a good film. Daboo Malik succeeds in giving a few peppy numbers. Arvind Singh's camerawork captures the beauty of Goa well.
Anuj Sawhney is good while Sameer Aftab is extremely likeable. Farid Amiri acts ably as well. Hrishita plays the Page 3 gal to perfection. Madhuri has a good screen presence. Pinky Harwani looks hot but needs to brush up her acting skills. Croatian beauty Sanda Caktas looks extremely pretty and makes a fair debut.
3 Nights 4 Days is a pleasant surprise and is worth a try.
Banner
Trio Cafe Pvt.Ltd
Maxwell Entertainment Pvt. Ltd
Film
3 Nights 4 Days

Cast
Anuj Sawhney as Rahul
Hrishita Bhatt as Antara
Farid Amiri as Amay
Madhuri Bhattacharya as Zoha
Sameer Aftab as Rocky
Pinky Harwani as Priya
Sanda Caktas as Marriane
Areesz Gandhi as Zombie

Director
Devang Dholkia
Producer
Sunil Pathare
Amit Kumar Mahoto
Devang Dholkia
Ryan Semelha
Farid Amiri
Lekhraj Sirawar
Music Director
Dabboo Malik
Lyricist
Panchhi Jalonvi
Rating
3/5