Review by: Faisal Saif
I knew Sheershak Anand and Shantanu Ray Chibber are the same writer's who wrote this year's first Independent Super Hit film 'Table No 21'. This was the only curiosity that kept me going while i was entering the Auditorium to see the film. When i asked Sheershak and Shantanu (While i Interviewed them), Why did they opt for a title '3G'? Were they confident this title would go well with Lower Middle Class (Autowala's) in India? Both of them didn't had a convincing answer for my question.
Sheena (Sonal Chauhan) is waiting for her boyfriend Sam Arora (Neil Nitin Mukesh) to join her on vacation in the exotic Fiji islands. Sam joins Sheena but his cell-phone get's fallen in a swimming pool by mistake. Sam buys a second-hand cell phone with 3G Facility to stay connected. One night he wakes up to a terrifyingly freaky video call which soon becomes a recurring phantom-phenomenon that makes Sam's life miserable. Their romantic holiday gets possessed by series of frantic, fearsome events powered by evils and illusions from the third world which could also termed as 'Supernatural'.
The Horror-Format is reversed here. Normally, You have seen a Girl or a Woman get's possessed by an Evil Spirit. Over here, There's a Male who is possessed by a Spirit for some past revenge.
A girl name Chyma/Jasmine (Mrinalini Sharma) who lives two life at the same time. One of a normal girl and other as a Sex-Worker. This twin identity is revealed to her boyfriend who is a technology-freak. The Boyfriend kills the girl but makes her soul live through a 3G connected cell-phone. Now this was something that really made feel sick. Plus the film focuses mainly on Neil and Sonal's characters. The film hardly goes out from the Hotel Room where the couple (Neil Nitin Mukesh and Sonal Chauhan) are staying and trying to find out solutions for this ghostly possession. They don't even bother to go back to India.
There is also a Special Appearance by one of the director in the film as Priest. This role provides a little comic relief by it's bad acting.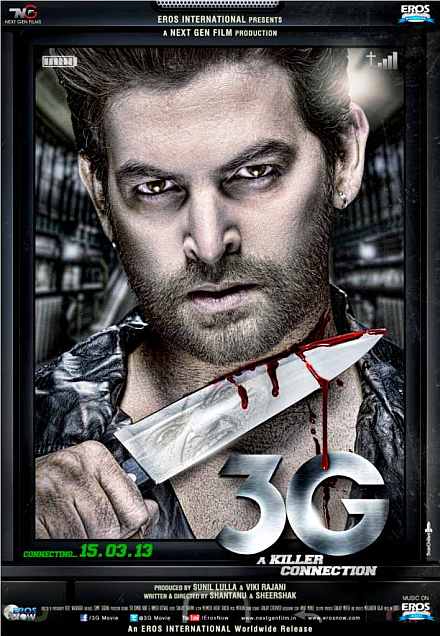 The film does have a message (If we go by the Film-Maker's interview), If you buy a Cellular Phone (With a 3G Facility), You might get possessed by a Spirit. A negative-message, Of course. The film does have another message (Which was not portrayed clearly) about Porn-Sites etc.
Neil Nitin Mukesh acts well in the first half, But later even he looked weak due to an Half-Baked script. Sonal Chauhan didn't look glamorous at all. She tried very hard to show her acting skills, But those acting skills were over-powered by her 'So-Called' Kissing Scenes in the movie. One good thing Sonal proved through this film, She is the 'Female Answer' to Emraan Hashmi. As far as Mrinalini Sharma's performance is concerned, She's a 'Puzzle' in the whole film. The moment you solve the Puzzle (In the climax), She dies. Another best example of her presence would be the film's posters where she cannot be seen at all.
Director duo Sheershak Anand and Shantanu Ray Chibber were so happy (Prior to the film's release) when they were being compared (By Press and Media) with the Thriller-Maker's Abbas-Mustan. I have no idea what would Abbas-Mustan feel after they'll watch '3G'. I still cannot believe the same team wrote 'Table No 21'. Cinematography goes Jerky and Out-Of-Focus at many parts. Musically, The film is a let-down.
3G is confusing and a perfect example of a Horror film that later on turns out to be a Comedy. It's better to stay Dis-Connected with this 3G.
Cast: Neil Nitin Mukesh, Sonal Chauhan, Mrinalini Sharma
Directed by: Sheershak Anand, Shantanu Ray Chibber
Ratings: 1.5/5