By: Faisal Saif
Before starting up with the Review of this extra-ordinary yet-another Dabba, Baatlee, Kela or Razzie Award winning Thriller, I have few questions for you. Have you seen a movie where a man dies after getting hit by a 'Bullet' and his eyes are still Blinking? A movie where the 'Location' is 'Goa' and the police uniform resembles Delhi Police? A movie where (Literally) every actor ham's and still tries hard to speak up English Lines such as 'Are you pulling my Leg?' A movie where an actress is seductively inviting her actor on bed but (On Screen) it looks like she is trying to fly a 'Mosquito'? A 'Father' is worried and inquiring about his son's whereabouts like a 'Mother'?
If that is not all, Hold your breath as I am about to narrate you the story of this Gold-Mine in a way like Mr.Bhoop Yaduvanshi (The superstar of 'Bad Acting') narrates (Suddenly) in between the film. Nikhil Dabur from Kanpur (The one and only Bhoop Yaduvanshi) hates his alcohol-addicted father. He has a good friend in the form of Kanishka (Yuvika Chaudhary). Kanishka loves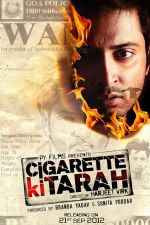 Nikhil, So she calls him to Goa and even gives him a job where a Nymphomaniac Sudesh Berry is the boss who has a 'Takia Kalaam' called Sweety Pie' that will make you laugh many times. Not because it's Humor, But because the hamming way it has been said.
Nikhil falls in love with an 'arrogant' Jessica (Madhurima Tuli). One day, They both get drunk, get intimate and even discuss marriage the next day but Nikhil finds himself in deep trouble as Sudesh Berry's murder takes place and Nikhil is Framed. Till here, You have tolerated Badly picturised Romantic scenes, Badly and very badly executed (No Laughter) jokes. Now it's your time to face the one and only superstar of Bad Acting's emotional and Action scenes. Did I mentioned Prashant Narayanan plays a Police Officer who is investigating this Murder Crime?
To add more commercial factor, In the end when title rolls, You'll also find a Music Video kinda song in which Bhoop Yaduvanshi dances (Like a 'Robot') along with Prashant Narayanan. I didn't missed it. Yippiieeeee!!!
You come out with questions after the film get's over. Bhoop Yaduvanshi is an actor filled with loads of money, And he self-financed the film to show his incredible acting talent (Maybe)? You have got a 'Star' who will give run of his money to KRK (Kamaal Rashid Khan)? Why Yuvika Chaudhary and Prashant Narayanan did this Movie? Were they both out of work? Heavy Remuneration? Which acting school did Madhurima Tuli go to?
I will (Seriously) give the director Akshaditya Lama One Star. Why? Because the director is capable enough to fool few people (Producers) to invest their money in a film like this. By the way, If you visit the director's (Self Written) Wikipedia page (Maybe), It says the director was an assistant to Anil Sharma, The maker behind classics such as Gadar, Apne etc. Has Mr.Anil Sharma seen Cigarette Ki Tarah?
After reading out this Review, If you still proceed to watch this film, All I can say is your life will be burnt for 2 Hours… Cigarette Ki Tarah.
Directed By: Akshaditya Lama
Starring: (The one and only 'Superstar' of Bad Acting) Bhooth (Oops! Sorry) Bhoop Yaduvanshi, Yuvika Chaudhary, Prashant Narayanan (God Knows Why), Madhurima Tuli, Sudesh Berry (Not Again)
Ratings: *