Movie Review Rating: 4/5. Hold this film tight. There is an utterly moving sequence towards the end of this lovely parable on cross-border amity where Sunny(Sharib Hashmi), who has strayed into Pakistan, confesses to Aftaab(Innamulhaq) that he is obsessed with Bollywood and wants to be a hero, though he knows he doesn't have it in him.
"Mera asli hero toh tu hi hai," Aftaab tells Sunny sincerely.
For me, that moment sums up the mood of this big-little film. Made at a shoestring budget by fringe talent, the film shows us that true heroes can be found in most unexpected places.
Try this hamlet in the back of the beyond in Pakistan where our Bollywood struggler is locked up by militants who actually wanted to kidnap Americans for …errrm…negotiations.
And look what they dragged in!
"Filmistaan" would have been an outrageously funny film were it not for the profoundly moving underbelly that it secretes with such fluency and spontaneity. The film could have become a gallery of cliches about Indo-Pak harmony. A sort of Veer-Zara turned into a Veru and Zara-uddin who become friends in Pakistani soil while guns boom all around them.
Sachindra Vats edits the scenes down to the minimum when required. But generally he lets the charactes develop naturally even if the process takes some time. The film is shot in authentic locations by cinematographer Subhransu Das who brings to the table an enticing aaura of believability.
The dialogues written by the film's lead Sharib Hashmi never become top-heavy with message-mongering, nor does the going get excessively verbose as it did in the recent cross-border film "Kya Dilli Kay Lahore".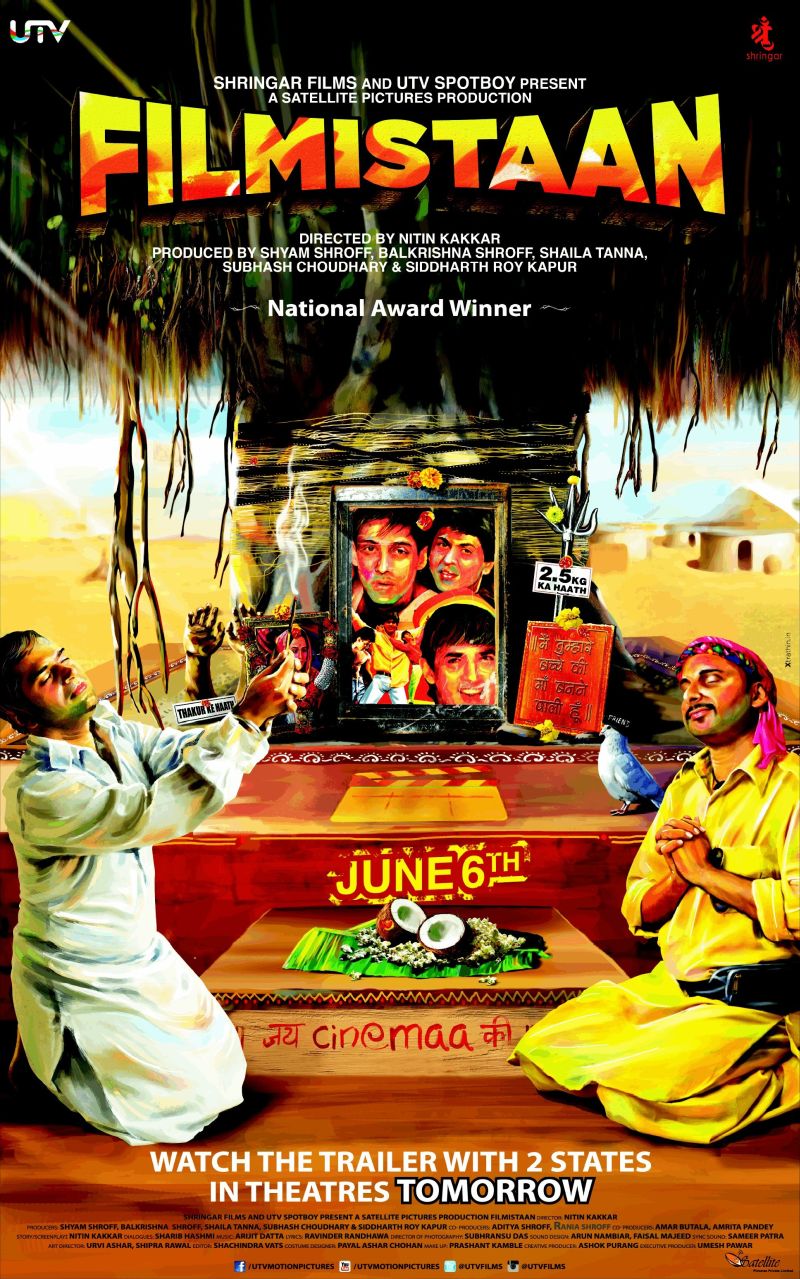 It's astonishing how director Nitin Kakkar averts all the corny cliches of brotherhood across the barbed wire. By simply using Bollywood as the binding factor between the two countries, Kakkar emerges with a plot that is high on emotions and low on tripe and homilies.
The two actors who play the Indian and Pakistan do the rest. So effortlesstly do they express the oneness of a cultural kinship that we are left looking at two individuals who transcend borders to become two Every mans. Sharib Hashmi and Innamulhaq are striven by their sense of absolute abandon that comes only to artistes who have nothing to lose except their anonymity. They are phenomenally in character, not slipping up even once in their interactive zone.
Bollywood does the rest. There is a longish homage to Sooraj Barjatya's "Maine Pyar Kiya" where we see the whole Pakistani village glued to a community television set watching Salman Khan and Bhagyashree love story. Here, as in many similar scenes showing mutual Bollywood-inspired solidarity between the two warring nations, Kakkar constructs a case for cross-border friendship without tripping over in an emotional slush.
My favourite sequence shows the captured Indian protagonist sitting in solitude in a darkened room when the sound of Reshma's song "Ve main chori chori" wafts in. Sunny joins in with Lata Mangeshkar's "Yaara sili sili" which is the Indian avtar of the same tune.
An entire thesis can be written in the way the film utilizes Bollwood songs on the rich soundtrack brimming over with the sounds of two cultures peering anxiously but affectionately at one another.
The storytelling never pounds out a pro-Pakistani message merely to try to tilt the socio-political balance between the two countries.
"Filmistaan" is neither for or against either country. It's blissfully pro-Bollywood. So what happens when a struggling assistant director from India bonds with a CD pirate of Bollywood films in Pakistan? We find out with the same thrill of discovery that the director feels as he lets the two protagonists sort out their differences.
This quirky charmer from first-time director Kakkar is fresh in vision and enchanting in execution. The only happy outcome of the cross-border divide is a heartwarming film such as this. As we often say about the Wagah border, this you gotta see.
Cast: Sharib Hashmi, Innamulhaq
Writer-Director: Nitin Kakkar