There is a moment of subdued splendour in this thriller that is both brutal and tender, where a chaprasi (peon) in a government office gives our autumnal hero John Biswas (Amitabh Bachchan) some vital information. Movie Review Rating: 4/5
Then the chaprasi casually asks if there is petrol in John's rickety scooter. As John parts with his only means of transportation he even helps the bureaucratic broker start the ancient vehicle. Yes, the scooter has seen better days. So has John Biswas. There was a time when he knew joy. His granddaughter Angela, who was left in John's care while her father went abroad, was kidnapped for ransom and killed.
Debutant director Ribhu Dasgputa's shimmering portrait of distant discontent is about John's atonement, his 15-year long quest for justice (not vendetta, he stresses) and his rather unconventional method of seeking and obtaining a closure to his agonising journey of pain, hurt, guilt and loss.
In TE3N — the title refers to the three protagonists of this jagged jigsaw of crime and retribution — it is his character's wife who is on a wheelchair (how and when she got there, we are not told) while Amitabh tries to find justice for his granddaughter's murder.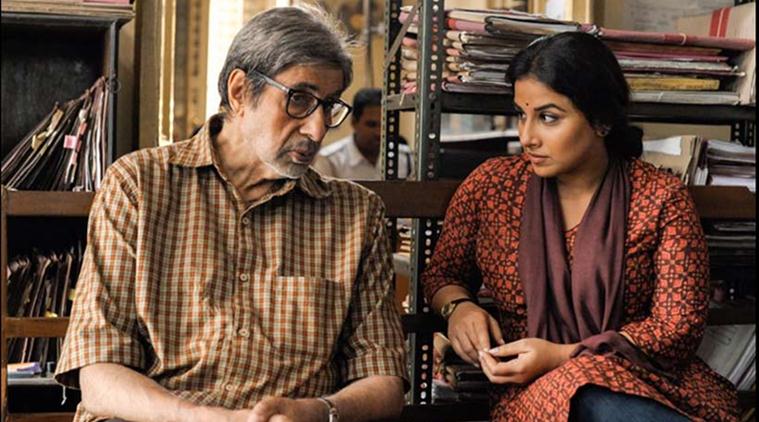 The most sincerely done moments in the film show the obdurate protagonist grappling with the law and red tapism. In an early sequence when Vidya Balan, playing a no-nonsense, blessedly non-uniformed cop, gently admonishes John for coming to the police station every day to inquire about his 15-year-old granddaughter's case, John quietly mumbles..
I have nothing else in my life.
TE3N captures the rhythms of existential inertia in solidly written scenes and dialogues. The flawed but unvanquished characters often seem to be saying much less than they actually feel. This is a work that recommends reined-in emotions when dealing with the drama of damnation. Except for one brilliantly shot railway chase, the narrative is under no pressure to generate dramatic highs.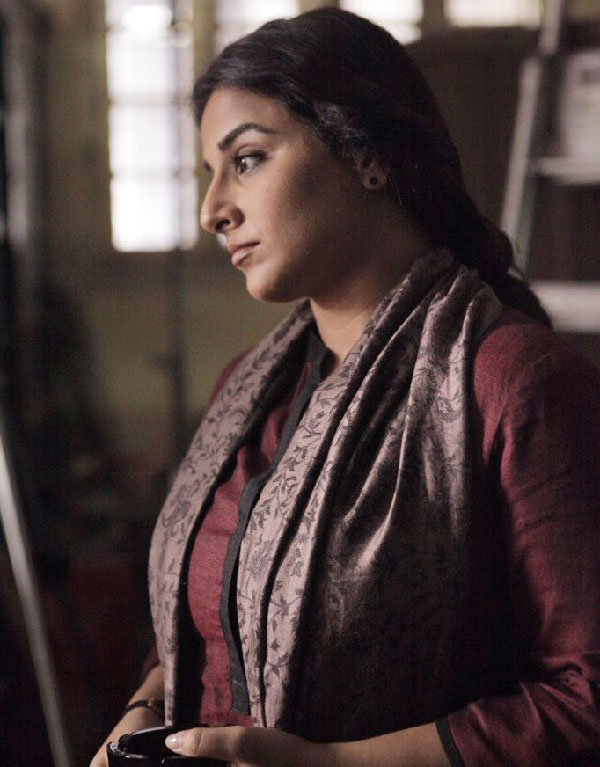 The exceptional soundtrack, which includes a sparsely scintillating background score by Clinton Cerejo, captures everyday sounds and disruptive disturbances with no drastic shifts in the sound design.
Nawazuddin Siddiqui is an actor who never ceases to surprise. He is interestingly cast as a cop who 'converts' to priesthood after a guilt-ridden incident. He is uncharacteristically quiet, contemplative and calm in his performance. This is no country for outbursts. And Vidya Balan playing an impatient cop knows it. While dealing with two child kidnappings, she substitutes manifestations of a growing hysteria with a tightly-wound anxiety that is mirrored in her troubled eyes. Vidya's is a performance far more accomplished than it seems.
Apart from Amitabh, Kolkata is the presiding hero of TE3N. The run-down yet stately and dignified mansions and desperately functional apartment blocks seem to represent the protagonist's ruined innerscape. Tushar Kanti Ray's cinematography seems to enter spaces normally prohibited to camera lenses.
But then this is the kind of cinema that doggedly and noiselessly ignores the rules and bends the governing sentiments of popular cinema to mesh human emotions with their heightened version without sacrificing a sense of equanimity and poise.
Even when confronting their innermost demons the characters don't scream at one another. Make sure you watch this film in a theatre with solid acoustics. You may miss some of what the whispers and murmurs are trying to say about life's regrets and their ruinous remedies.
TE3N grips us from the first frame. It is a thriller with a heart, soul and most exceptionally, a conscience. Set in Kolkata, TE3N is an astutely mounted, suspense filled, investigative drama. It is the closure of a kidnapping case that occurred eight years ago.
Ever since John Biswas loses his eight-year-old granddaughter Angela Roy in a tragic kidnapping incident, he has been depressed and guilt ridden, for he is blamed for a crime he has no hand in. He visits the Lal Bazar police station daily, to meet the officer Sarita Sarkar, seeking an update and thus hoping for a closure.
With the case not making any headway, John also hounds the then investigative officer Martin Das (Nawazuddin Siddiqui), who has now left the police force and become a priest. Once, while in the market, John stumbles upon a little girl wearing a cap, which Angela had worn when she was kidnapped. This sets John on the search trail once again and ignites his hope for justice.
But it is only when another child, Ronnie, is kidnapped and a similar sequence of events that happened during Angela's case follow, that the investigating officer Sarita reopens old case files and seeks Martin's help and intervention.
How the trio investigates the case and solves the mystery, forms the crux of the tale. The riveting plot and brilliant performances are what keep you hooked.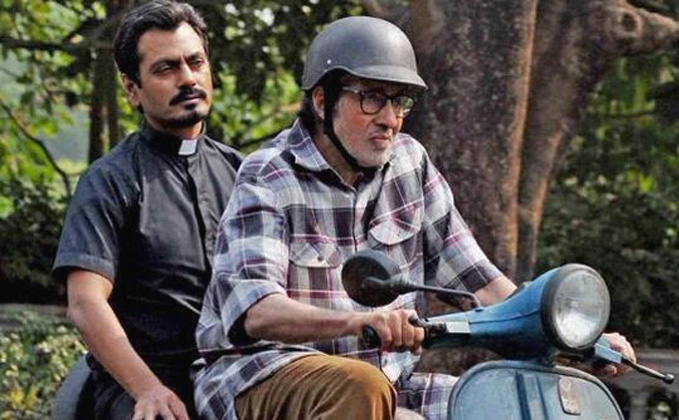 Amitabh Bachchan, with his awkward gait and open mouth, makes a remarkable effort to keep John Biswas distinct and different from his Piku character, which too was of a Bengali septuagenarian. He is convincing and shines as the distraught grandfather.
Nawazuddin is effortlessly natural and gets into the character of Martin Das. Vidya, credited for a guest appearance, offers nothing exceptional. Sabyasachi Chakraborty as Manohar Sinha, Ronnie's grandfather, is perfunctory, despite his strong screen presence. Prakash Belawadi as Manohar's colleague is wasted. Padmavati Rao in the wheel-chair, as John's wife Nancy, holds her own against Amitabh, in a miniscule role.
Adapted from the 2013 released Korean film, Montage, director Ribhu Dasgupta's direction is fraught with flaws especially in his script.
The characters are underdeveloped and wafer thin, especially that of the kidnapper. His motivation is totally unconvincing. Similarly, Nawazuddin's character too seems flimsy. His getting involved in the case after becoming a priest is a tad too far-fetched.
Also the screenplay, with the timelines overlapping, is a bit confusing. Visually, the setting is realistically natural and moody and is captured brilliantly by cinematographer Tushar Kanti Ray's lens. There are a few manually focussed frames, which may seem artistic, but in actuality, blemish the viewing experience. The background score by Clinton Cejero merges well with the visuals and adds pace to the narrative.
Overall, this leniently-paced suspense film which starts off with a swelling promise seems to have been wrapped with hurried compromises that doesn't really leave a strong impact — except for the performances.
Film: TE3N
Director: Ribhu Dasgupta
Cast: Amitabh Bachchan, Vidya Balan, Nawazuddin Siddiqui, Sabyasachi Chakraborty