By: Faisal Saif.
The film belongs to 'Leave-Your-Brains-At-Home' cinema, But unfortunately the film has very less amount of entertainment value to it. Inspired from S.S.Rajamouli's Telugu blockbuster 'Maryada Ramanna', Son Of Sardaar tries very much to be a Family 'Masala' entertainer and fails at times.
The only thing that makes Son Of Sardaar worth a watch is the simplicity of its narration, its nonsense humour and its quirky characters who know where to draw the line. Jassi Randhawa a happy-go-lucky young Sardaar (Ajay Devgn) who lives in London and who has no idea whatsoever about his family's bloodshed past and the 25 Years long enemity between his family which are Randhawas and Sandhus. It is only when his colleague discloses certain secrets that Jassi learns about his family and about his property at his native place in Punjab. He decides to go the village. On his journey, Jassi bumps into Sukh (Sonakshi Sinha) and both fall in love with each other but there are no confessions between them about their feelings.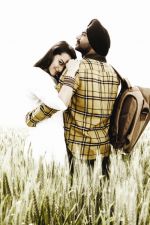 After landing in his Village, Jassi realises that Sukh belongs to the Sandhus' family headed by the mighty Ranvijay Singh (Sanjay Dutt). Ranvijay Singh and his Family treats guests with out-of-their-way Hospitality one can never forget. Things become worse when both Jassi and Ranvijay know that they are enemies and Ranvijay is now thirsty for Jassi's blood but can't kill him as long as Jassi remains his Guest. Even Jassi knows that the moment he steps out of Ranvijay's house he will be chopped into pieces.
Son Of Sardaar is a typical masala entertainer. It's got all the formula of an action-packed flick. The only problem is the film carries lots of Un-Necessary scenes. Especially the 'Coconut' scene which i am still trying to figure out the reason behind incorporating it in the film. The film Drags a lot. The climax fight too was very lengthy and unwanted.
The film has some really good performances and the actors try real hard to save the screenplay from their class-a-part performances. Ajay Devgn is fabulous as 'Sardaar'. Sonakshi Sinha looks apt and convincing as a Sardarni. Sanjay Dutt is just superb. Infact he is the only actor you remember even after the show is over. It is like a Treat to see Juhi Chawla after a long time. Mukul Dev and Vindu Dara Singh steal the show with their comic timings.
Director Ashwini Dhir had said in one his Interview that Son Of Sadaar has been changed from the Original telugu 'Maryada Ramanna' to suit the taste of Bollywood. According to me, Ashwini should have stick to the Original. Sajid-Wajid's music has some good songs and camerawork is decent too.
But it's the 'Performance' by the lead actors which actually saves the film. Still, The film is only a One-Time-Watch.
Cast: Ajay Devgn, Sonakshi Sinha, Sanjay Dutt, Juhi Chawla, Mukul Dev, Vindu Dara Singh.
Directed By: Ashwini Dhir.
Ratings: **1/2