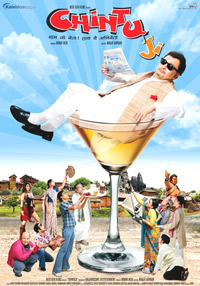 Next Gen Films and Kaleidoscope Entertainment announced on 22nd August'09 the release of Chintuji, a humorous take on actors becoming politicians. Starring veteran actor Rishi Kapoor who plays himself (Chintu Kapoor), the hilarious satire is scheduled to release on 4th September. After being highly appreciated in the super hit Love Aaj Kal, Rishi Kapoor is all set to captivate audiences with his character driven role in Chintuji where he plays himself Rishi 'Chintu' Kapoor.
Set in a small but beautiful village called 'Hadbahedi', Chintuji casts Rishi Kapoor in an intriguing role, which has been very special to the actor. The film has been produced by Bobby Bedi and written & directed by Ranjit Kapoor of cult comedy 'Jane Bhi Do Yaaron' fame of which he wrote the dialogues. In this hilarious satire on actors becoming politicians, the film takes the fun route with Rishi Kapoor playing a 'reel life brat' portraying all his 'real life' idiosyncrasies.
Speaking of his role in Chintuji, Rishi Kapoor says, "I'm thrilled with this role as this is the first time I have portrayed a character this close to my real personality. I had a ball playing this role and it occupies a very special place in my heart. Despite being an uproarious comedy, the film still manages to remain meaningful and beautifully brings out the satire and emotions. It's a superb blend of fiction and reality. In the words of one of my Father, Shri Raj Kapoor's favourite songs – it is "Aadhi Haqeeqat, Aadha fasana".
The film stars Rishi Kapoor as lead protagonist along with Priyanshu Chatterjee, Kulraj Randhawa, Grusha Kapoor and Sourabh Shukla with a special performance by Sophie Choudhary.