Music review by Yashika Mathur (Rating: 2/5)
One of the first things you notice about the "Krrish 3" soundtrack is that it is lengthy. Composed by Rajesh Roshan, it has seven tracks, including two remixes. While a couple of songs are just average, some are interesting.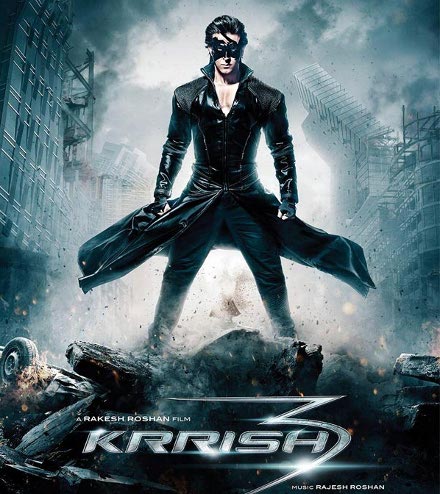 The first is the title track "Krrish Krrish". Wow! Singer Anirudh Bhola has a presence in the song, but it is Mamta Sharma who gets the attention. The piano plays the signature tune and it sounds beautiful. There is a sense of heroism and mystery in the song. The music takes all the attention.
A new version of "Raghupati Raghav" comes next. The music starts in a vintage, classic style but suddenly changes to contemporary beats and feels forceful. Singers Neeraj Sridhar and Monali Thakur do well on their part.
The remix version of the track is done by disc jockey (DJ) Shiva. It's just like any other remix.
Next is "Dil tu hi bataa", sung by Alisha Chinai. There is a sense of serenity in the song. But not everyone might or might not like the romantic track. Zubeen Garg joins Alisha Chinai for a duet. A dreamy feeling takes over while you listen to the song.
The remix version is again presented by DJ Shiva. Just another remix with faster beats.
The next track will surprise one and all. Singers Mohit Chauhan and Alisha Chinai go behind the mike for "You are my love", a hilarious entertaining number. It starts with the kind of music that is played in villages. Not to confuse it with folk. Lyrics are interesting. Sample this – 'You are my love, my cuddling, pudding pie'. It would be interesting to watch the video of the song.
The last is "God allah aur bhagwan". Sung by Sonu Nigam and Shreya Ghoshal. This also talks about the heroic character of Krrish. The chorus brings grandeur to the song.
The music of "Krrish 3" is not superb, but it entertains.
Film: "Krrish 3"
Music Director: Rajesh Roshan
Singers: Mamta Sharma, Anirudh Bhola, Neeraj Shridhar, Monali Thakur, Bob, Alisha Chinai, Zubeen Garg, Mohit Chauhan, Sonu Nigam, Shreya Ghoshal