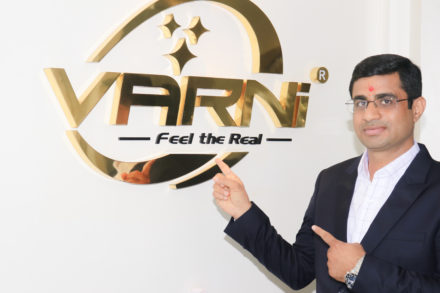 Taking Make in India slogan to a whole new level, entrepreneur Kishan Mali broke the glass roof of china make with his leading brand Varni, making the impossible, possible.
Chinese products rule the Indian market, and their supremacy in electronic goods has never been challenged by any brand, except Kishan Mali's Varni.
Talking about his inspirational journey into the digital accessories market, Kishan Mali said, "See I have nothing against china make, they showed the world how to make product affordable, but not durable. I wanted to create something Indian, it wasn't easy, people and even my close ones laughed at me, mocked me, sort of distant themselves, but I had faith and I created Varni with only a handful of people. Now we're the leading brand in electronic goods market, with products which are affordable, durable, and made in India, for India and by Indians"
Kishan Mali, a young boy from Jalor district in Rajasthan, with nothing but dreams, stepped into the uncharted territory of the digital accessories market and evolved, making India digital with his sheer dedication, quality work, and grounded value system.
Further adding, Kishan said, "Indian market has untapped potential, every major economy in world is eyeing our market because we have a huge consumer base. I had a very limited exposure when I started my business, with some success, I can certainly claim that make in india is possible, it's not that impossible"
"Rather than world leading us, we can lead and provide the world with whatever they need. We have the resources, technology, work force and ideas, all we need is little bit of faith and belief in our making. I am not a big fame of import; I want to export now."
Varni is India's leading high-quality mobile accessory brand. The company, which was founded in 2009, manufactures Wireless Speakers, Headsets, Wireless Headphones, Power Banks, Mobile Batteries, USB Cables, Touch Screens, LCDs, Spare Parts, Mobile Cases, and a variety of other mobile accessories.