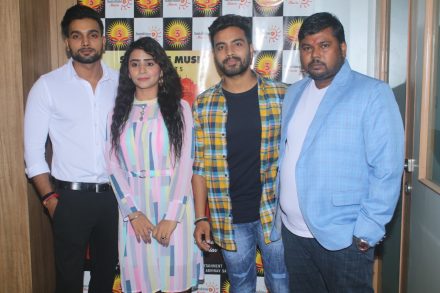 3 Wings Production's Head-honcho Santosh Rao hosted a star-studded gala to lauch the new single, Deewangi Ki Raat, here in Mumbai.
During his media interaction, Santosh Rao introduced the entire cast and crew of the song and announced various new ventures of his home-banner 3 Wing Production.
Deewangi Ki Raat features a talented ensemble of Sawraj Manchanda, Dimple Soni and Rahul Yadav, and the song will be out 11th September exclusively on Sunshine YouTube Channel.
Talking about the song and his ventures, Santosh Rao said, "We have been in business for a long time, we have done quite a few projects for OTT and Satellite, now our new song is releasing, Deewangi Ki Raat, which is a romantic number with fresh new cast and different vibe. I am sure the audience will love it"
Further adding, "We have big plans, we're venturing into OTT content production, few projects are in pipeline, and we will make the announcements shortly. This song is just a beginning, we have big plans" added Santosh.
Sawraj Manchanda, Dimple Soni and Rahul Yadav, were also excited about the song, which is shot in exotic and historic locales of Rajasthan.
Dimple Soni said, "It is romantic number and it's such a smooth track that everyone will love it. Shooting the song in Rajasthan was tough, due to weather conditions. But I am happy with the song, it is a beautiful number"