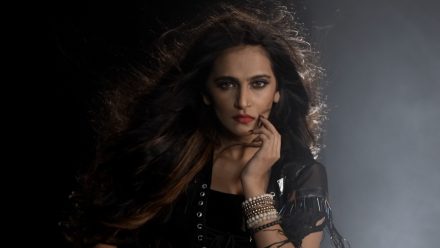 Kavya Jones is  a young independent singer who  has recently released her self-titled Debut Album called 'Kavya Jones'.
The music has been composed, created & produced by the legendary Leslee Lewis who is known as the King Of Indie- Pop for his world famous creations like Paree Hoon Main – Janam Samjha Karo- Yaroon Dosti- Pal and is also one half of the Famous Duo Colonial Cousins. With hits like Sa Ni Dha Pa & Krishna to just name a few of his creations.
Trained under Leslee Lewis for almost 3 years Kavya Jones is also his co vocalist and has performed along with him all over the globe. She has also performed with renowned singers like "Shaan" "Siddharth Mahadevan" and many more.
Her EP "Kavya Jones" consists of three songs Aaja Meri Baahon Mein Featuring the amazing Rapper 1080g , Behek Gayi Mai & Teri Aankhe Sexy Sexy.
Aaja Meri Baahon has turned out to be an Instant Hit !! The song is a Super Vibe oriented track bordering on a Sensual Deep Groove where Soul genre meets the Blues.
Kavya Jones' vocal displays an air of abandon and dreaminess where as the wonderful 1080g kicks in with a romantic rap and great timing!
This song is a breath of fresh air in the current beat dominated independent music scene.
The song 'Behek Gayi Mei' is a Soulful Ballad where Kavya's vocal rendition brings out the essence of heart break. This song got play listed and showcased instantly on various audio streaming platforms within two days of release!!
Teri Aankhe Sexy Sexy is an 'In your Face' commercial Dance Track with great beats and a fabulous Dancy Hook sure to get you on the floor.
All the three songs are part of a new genre called 'Global Hindi' Created by the Maestro Leslee Lewis aiming to bring a fresh change in the Indian Music Industry.
Links –
Watch Video : https://youtu.be/_vQdIK_U1f8
Album  : https://www.jiosaavn.com/album/kavya-jones/kuC9SQt4AB4_