Eminent actor and philanthropist Anil Kapoor will front a new campaign that brings much needed attention to child labour in India. One of the world's fastest growing economies, India is home to the largest population of child labourers in the world.
The actor, who is the Goodwill Ambassador for child rights organisation Plan India, will campaign for the NGO's new initiative to raise awareness and inspire action to pull millions of children out of all forms of labour.
Every morning over 8 million children in India go to work instead of going to school. Our economic progress loses a lot of meaning if hundreds of thousands of children have no hopes of a future
said Mr Kapoor addressing the media in Mumbai to mark the International Day Against Child Labour, which is commemorated on June 12.
According to India's 2011 Census, out of 8.2 million child labourers under the age of 14 years, over 2 million are very young children between 5 and 9 years. Millions of children have no access to basic food, shelter, education, medical care or security. They endure extreme poverty and are constantly at risk of exploitation and danger, living and working in circumstances simply unfit for a child.
Ms. Bhagyashri Dengle, Executive Director, Plan India said:
As part of our vision for 2020, Plan India is committed to improving the lives of 2 million children and youth, through direct programme interventions and by working in close collaboration with the Government and other partners to ensure that no child is left behind.

Plan India has worked with thousands of children who were forced into labour over the past ten years and has seen a transformational change in their lives through interventions at the family and community levels. At Plan India we strive to ensure that no child is left in difficult situations and is ensured of her or his right to protection, education and health care.
Mr. Kapoor also announced that a National Conference on Children in Difficult Circumstances will be held in New Delhi in November 2016. When the basic needs such as food, shelter, education, medical care and protection, are not met, children are considered to be in difficult circumstances.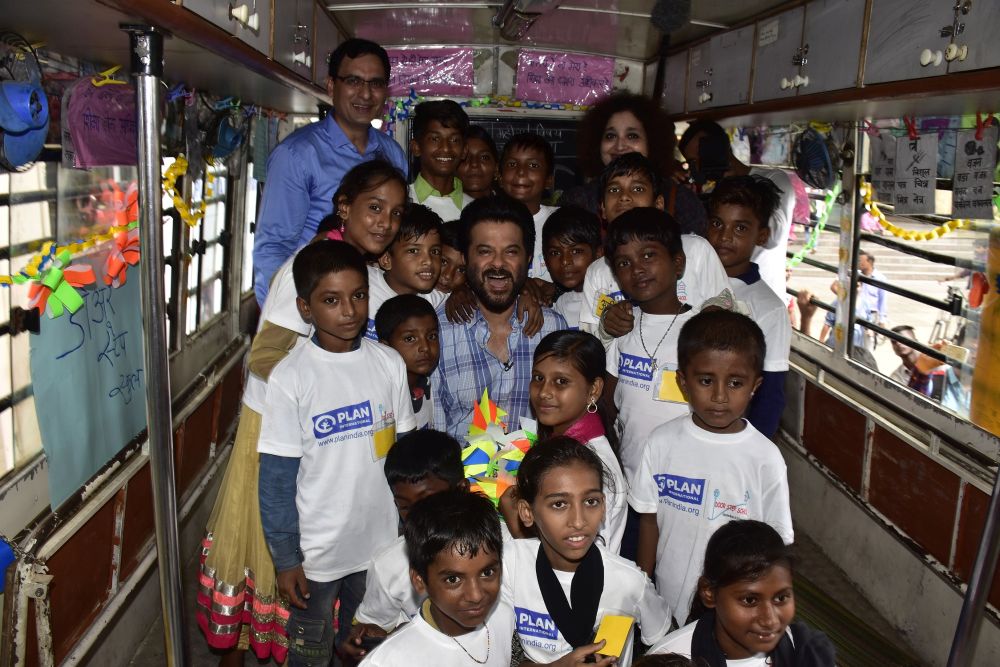 The Conference will be the first ever gathering on the issue where child rights organisations, development practitioners, researchers and policy makers from across India and the world will exchange ideas and best practice in tackling the root causes of inequality and injustices faced by children.
As part of announcing this engagement with the initiative, Mr. Kapoor met with children from Mumbai's slums who work to support their families and are therefore unable to attend regular schools. However, the children are able to continue their education with the help of a mobile classroom that travels to their localities. It is part of Plan India's innovative programme – School on Wheels that uses a bus designed as a mobile school to provide alternate educational facilities for slum children who don't go to school in order to earn an income. The project is being implemented in South Mumbai slums and around 3,000 children benefit from the project every year.
Bharti, 15, works before and after class, but School on Wheels remains the highlight of her day. "I like coming to school. I like studying. The teacher looks after us," she says. Her friend Yasmeen, who works as a domestic worker in the morning, agrees it is a good way to escape a life fraught with poverty. "After work, I come to school and I sing songs and draw pictures."
Mr. Kapoor added:
Having been associated with Plan India all these years, we've been able to improve the lives of over a million children and their families. But there is still a long way to go, and one resounding imperative – child labour and exploitation must end. We are all responsible for coming generations and the world we leave to them. It is time our movement became everybody's movement.
Mr. Kapoor also unveiled an exhibition documenting the lives of children in difficult circumstances at the Atrium, High Street Phoenix.
The High Street Phoenix has been known for its contribution towards societal issues especially related to the education of children across strata of society. It is now supporting Plan India in their efforts to end one of our society's biggest ills- 'child labour' with the intention of sending children back to school.