Round Table India, the non-political and non-sectarian organization today afternoon announced and signed Mr. Sharman Joshi, Bollywood actor as their Brand Ambassador of global movement Round Table India at Novotel, Kolkata.
The tie up and initiative was done by Calcutta Park Street Round Table India and Calcutta Park Street Ladies Circle India. The Press Conference was attended by: Sharman Joshi, Bollywood Actor; Mahesh Kedia, Chairman, Round Table 34; Harmeet Singh Sethi, Area Chairman – Area 4; Koonal Jain, Publicity Convenor – Round Table 34; Sandeep Harbhajanka, Area Vice Chairman-Area 4; Vivek Dalmia, Area Secretary & Treasurer – Area 4.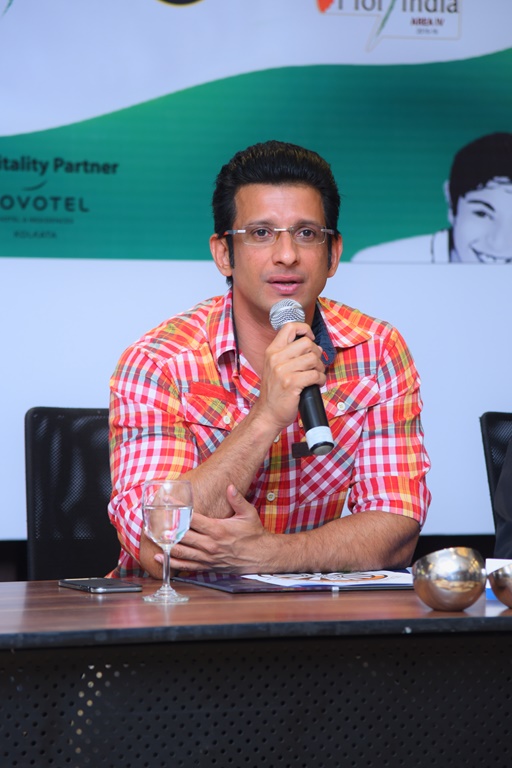 Speaking about the event, Sharman Joshi, Bollywood Actor said,
In past 1 year I have met and performed for many RTI members all around India. The time, energy and work they do is unmatched. I feel so proud of these youthful members making schools and having the dream of Freedom Through Education. It is nice to be a brand ambassador of such a movement which is zero overhead and works on ground reality. I hope to promote such spirit and passion in all the Indians I meet.
Addressing the media, Mr. Harmeet Singh Sethi said, Area IV Chairman & Immd Past Chairman CPRT34 said "RTI members are young entrepreneurs who retire at 40yrs of age. Sharman Joshi is the youth icon of many and has been associated to RTI for our Fund raising plays all around India. As a brand ambassador we are sure he will inspire the youth to contribute to the community and help in educating major Indian population."