Vivek Oberoi, Rohit Shetty, Music Director Shankar Ehsaan Loy, Y. K. Sapru from Cancer Patients Aid Association, Mr.Harish Baijal Jt Commissioner FDA Maharashtra, Dr. P. S Pasricha, former DGP Maharashtra together to fight against Tobacco & Cancer, packets of tobacco Gutkha & Cigarettes were disposed off in 'homa-altar' in Mumbai
Vivek Oberoi, the brand ambassador for Tobacco Control , Mr. Rohit Shetty (Director& Producer),Shankar Ehsaan Loy and the other guest present for the evening were Aakriti Kakkar, Mamta Sharma, Sandeep Batraa, Aditi Singh Sharma, Anusha Mani, Divya Kumar, Shadab Faridi & Shruti Pathak was present to support fight against Tobacco & Cancer and the cause. Along with him the tobacco control panel consisted of Dr. Prakin Suchaxaya (CHP-WHO), Mr. Harish Baijal (Jt. Commissioner FDA-Maharashtra), Dr. P S Pasricha (Former DGP of Maharashtra.
Speaking on the initiative Vivek Oberoi Commented
Smoking and Tobacco are not only in Personal but social evils as well, I was extremely concerned to learn about the increase in tobacco use on all age groups which is a matter of great public health concern and I believe it is our collective moral duty to address this issue. I am proud to be tobacco free and pledge my whole-hearted support to this campaign.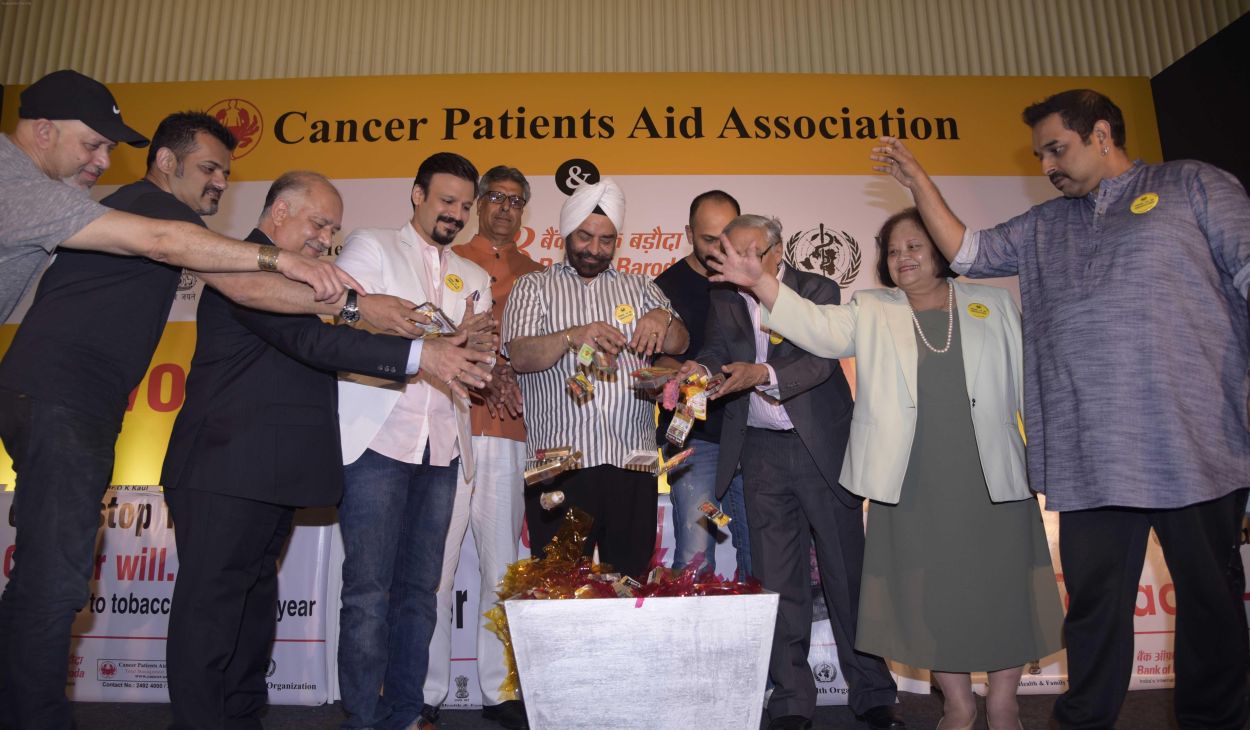 Tobacco use is one of the leading preventable causes of death. The global tobacco epidemic kills nearly 6 million people each year. 600,000 premature deaths can be attributed to exposure to secondhand smoke. Unless we act, it will kill up to 8 million people by 2030, of which more than 80% will live in low- and middle-income countries.
Mr. Y. K. Sapru, Chairman & CEO, CPAA says that World No Tobacco Day 2016 will seek to educate policy-makers and the general public with regard to the tobacco industry's harmful tactics and to alert smokers and potential smokers on the most important preventable cause of death and disease in adults. The World Health Organization (WHO) estimates that around 5 million people die prematurely each year due to smoking and that number is expected to rise more than 10 million by the year 2020, most of who will live in developing countries. In India alone, over 6 lakh men between the ages of 25 and 69 die from smoking each year.