Celina Jaitley certainly is one lucky gal. Recently on a shoot at Maldives for her south film 'Sreemati' opposite superstar Upendra, Celina had a close brush with death.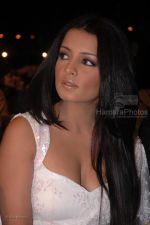 It was the camera assistant, whose quick thinking and deft actions pulled her from the jaws of death. Recalling the incident, Celina says,
"I escaped severe injuries by falling into shallow rocky seas from a great height. While shooting, the camera buggy was supposed to go past me while I was standing near an outcrop. But it swung out of control and I toppled, barely managing to grab a buggy rung. I lost my grip on that too but the camera assistant Ram Gopal Mishra grabbed me and that saved me."
All of this happened in just a few seconds and it was Celina's good fortune and the camera assistant's sheer presence of mind that saved Celina.
But Celina also has an unshakable belief that those who have the blessings and goodwill of others have nothing to worry about.
We sure agree with you and are grateful for the lucky angel guarding you