Within four weeks of taking up the international theatrical rights of Vipul A. Shah's keenly awaited LONDON DREAMS, Studio 18 has turned it around with a massive marketing blitzkrieg that includes a star-studded premiere in Dubai, a real-time video conference of the stars with the US media, and a meet and greet with Salman Khan in the UK.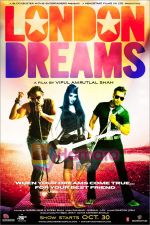 The incredible marketing is being supported by a massive 230 print release of the film in the non-domestic markets, the largest print count if the numbers for recent solo Salman and Ajay starrers are anything to go by.
LONDON DREAMS opens in the UK and UAE on Thursday 29th October and will have a day-and-date outing on Friday 30th October in North America/Canada, Germany, Norway, Switzerland, East Africa, Malaysia, Indonesia, Hong Kong, Singapore, Pakistan, Mauritius, Fiji and Australia/New Zealand.