Last week saw the release of the year's most awaited film Dangal that starred Aamir Khan in the lead role. Besides garnering superlative appreciation for the film's stellar star cast, the film has been breaking record after record at the box office. While on one hand, the going has been extremely good for the film, on the other hand, the film has got itself embroiled in a couple of controversies.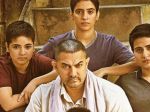 Yesterday, after Geeta Phogat's real life coach threatened legal action against the film's makers for allegedly insulting him in the film, today, we hear that an advocate named Adil Khatri is contemplating legal action against makers of Dangal for allegedly insulting India's national anthem. Advocate Adil Khatri is contemplating legal action with the help of an NGO called 'Jai Ho Foundation'.
Readers may recall that, there is a particular scene in the film where the national anthem gets played slowly after Geeta's iconic win in the wrestling match. This has not gone well with the members of 'Jai Ho Foundation', who felt that strict guidelines of the Supreme Court order weren't followed while playing the anthem. That's why Advocate Adil Khatri (Trustee and legal head- Jai Ho Foundation), sent a letter to the Central Board of Film Certification (CBFC), in which he demanded legal action.
When asked about the reason for legal action against the makers of Dangal, Advocate Adil Khatri said that the volume of the national anthem was very low at the start and increased gradually, which was against the guidelines of the SC order. He added that, there should also be a disclaimer on the screen asking people to stand for the nationa