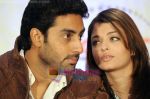 Jr.Bachchan is quite busy these days. Apart from films, Bachchan junior is spending sometime in preparing the speech which he is going to deliver at the world-renowned Wharton School of the University of Pennsylvania. The actor is expected to speak on the finer points of Indian cinema. This speech will be his first international speech.
We spoke to our source, "Abhi is happy to get a call from them and speak on the occasion. This call is very important for him and so he is taking his role very seriously. It's a big honor, considering Bollywood is still in its early stage and from Bachchan family he is first to give lecture in this school."
About this international speech his pa Mr.Amitabh Bachchan commented in his blog, "Abhishek moves to New York and Wharton later tonight."
The 13th Wharton India Economic Forum to be held in Philadelphia on March 21st will see the face of leaders, politicians and experts from across the world, sharing their outlook and vision on the 'Road Ahead for India' – the title theme this year. Apart from Abhishek, former sportsmen Sunil Gavaskar, Geet Sethi and Vijay Amritraj, Sabeer Bhatia, film director Rohan Sippy and Rahul Gandhi are expected to share their viewpoint.