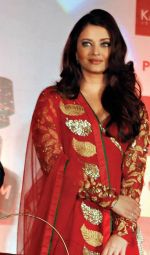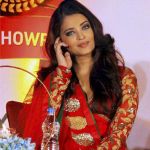 Aishwarya Rai Bachchan at the Kalyan Jewellers inaguration event on 7th July 2013.
To embark on its national expansion plans and to push up the cadence of its retail foray Kalyan Jewellers, India's leading jewellery chain set up a showroom in Pune. This is in line with the existing showrooms in Mumbai. This is Kalyan Jewellers 50th showroom. The showroom is spread over 14000 square feet. The showroom was inaugurated by Ms. Aishwariya Rai Bachchan, Kalyan Jewellers very own brand ambassador.
Speaking on the occasion Mr. T.S. Kalyanaraman, Managing Director, Kalyan Jewellers said; "Kalyan Jewellers today enjoy a strong association and trust. The launch of our new store is a glaring example of Kalyan Jeweller's success and the prized appreciation of customers that the brand has won over the years. The launch of our store in Pune underlines the importance of this dynamic market. We are hopeful that Kalyan Jeweller's tryst with Maharashtra will make more jewellery aficionados appreciate the brand and its unparalleled collection of Jewellery. This launch is aimed at expanding the shopping horizon of the people in the city, while providing a greater level of choice, convenience and satisfaction"
Kalyan Jewellers are planning to open 15 more showrooms across the globe in this financial year. Kalyan aims to have 100 stores spread across India by 2015. Kalyan has been at the forefront of pioneering efforts to educate the public of cheating and malpractices in gold quality and pricing through their campaign 'Fight against Impure Gold".
Mr. AmitabBachchan and Mrs. Aishwraya Rai Bachchan represent Kalyan Jewellers nationally. To represent the company regionally they have stalwarts like Nagarjuna in Andhra Pradesh, Sivaraj Kumar in Karnataka, Prabhu in Tamil Nadu and Dileep in Kerala.
ABOUT KALYAN JEWELLERS
Kalyan Jewellers is the flagship of the prestigious 100-year old Kalyan Group with its origins in textile manufacturing and retailing. The group's forayed into jewellery retailing two decades ago in 1993, and has retail store strength of 50 showrooms across the 4 southern states, Gujarat and Maharashtra. Kalyan Jewellers is a clear market leader in most of the markets it operates. Kalyan Jewellers is in the midst of a major expansion spree and is poised to enter Gujarat and Maharashtra in 2013. The company has set an ambitious target of 100 showrooms by 2015.
Kalyan Jewellers has five sub brands for gold named Floret – Flower based designs, Tamas – Colour based designs, Bloom – Kids Jewellery, Rang – Precious stones jewellery and Eterna – Traditional Jewellery. We also got six sub brands for diamonds named – Anokhi – uncut diamonds, Sakshi – Diamond studded mangalsutra, Bliss – duo bands for couples , Amore – diamonds for youth, White Mistry – Platinum with diamonds and Antara – Bridal diamond wear.