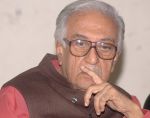 Author Shafi Thanawala invited veteran broadcaster Ameen Sayani as chief guest to release his maiden book "Indian Tea American Chai". The book has five emotional stories.Speaking on this occasion Ameen Sayani recalled his long association with Shafi. He said,"when i got married the first party me and my wife attended was of Shafi's.
I know Shafi very well but i was not aware that Shafi is a good writer as well.His book has come as a surprise to me. Today each morning the news papers are carrying news soaked in blood..I hope in such atmosphere Shafi's this book will give great relief to our troubled minds.The name Shafi means healer and i am sure his book will prove as a healer to it's readers".
Shafi's friend and chartered engineer by profession Mr.M F Alvi read out some chapters from the book, Alvi has also helped Shafi to edit this book and in his speech Alvi opined that two or three stories of this book have all the potentials to make it into Bollywood film.
Now, lets see which producers are coming forward to make films on stories written by Shafi Thanawala.