Music lovers and celebrities come together to give a tribute to The Woodstock Festival- one of the largest music revolutions in the world.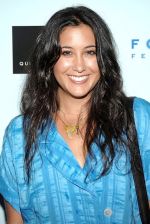 INOX, Goa's favourite movie destination, hosted an exclusive red carpet premiere of 'Taking Woodstock' on Thursday, 6th October 2009. A PVR Pictures release, 'Taking Woodstock' is directed by Academy Award-winning director Ang Lee and is the world's first ever full length feature film based on The Woodstock Music Festival of 1969. The movie, as the name suggests, is inspired by one of the greatest and most pivotal moments in popular music history that gave birth to one of the largest music revolutions of all times in the world.
Celebrity musicians including Luke Kenny, Uday Benegal, Ranjit Barot, Anuradha Pal were a part of this Woodstock celebration in Goa, along with Brian Tellis (Chairman of Fountainhead Events) who has visited the Woodstock Festival and DJ Black Jack who recently had an opportunity to meet Artie Kornfeld, one of the founding organizers of the legendary Woodstock Music and Art Fair held at Bethel in New York in 1969.
Commenting on the event, Ranjan Singh, Head- Marketing, PVR Pictures said,
"We are super excited to have Taking Woodstock's premiere in Goa. It's the perfect destination for a film dedicated to the biggest music festival in the world and having so much support from our partners as INOX, Fly Kingfisher, Taj Vivanta and others made it possible for us to bring the event here. We look forward to entertain Goans with more such ventures."
Joseph Pereira, Unit Manager- INOX Goa said,
"We are privileged to be the only ones to host the premiere of 'Taking Woodstock' in the country. INOX in Goa strives to live up to its promise of delivering something novel and to reinforce the fact that it is a wholesome entertainment destination."