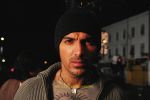 Hook Yaa Crook is yet another cricket film being made in Bollywood. After Harman Baweja's Victory, now its time for John Abraham and Shreyas Talpade to say Hook Ya Crook. It is said to be a thriller involving comedy and cricket. About the film and its plot our source close to the film said that.
"John Abraham is learning cricket under Dinesh (Raju) Lad who is also the coach for cricketer Rohit Sharma. John will be playing the fame with national level cricketers like Mahendra Singh Dhoni and a number of other star cricketers."
Further our source told us that,"Hook Ya Crook tells the story of Viraj Pradhan, a boy with unlimited passion for the game of cricket; who aspires to play for the Indian Team one day!"
"Atlast, it seems like his dream will always remain a dream when he is sentenced to a maximum security prison due to his reckless behavior. In the prison he discovers that the dangerous inmates are as passionate about the game as him and soon he is in huge demand."
"With his new rag-tag group of friends, an oppressive warden and his never ending lust for the game, Viraj renews his search for a way to achieve his dream of playing cricket for India!"
Hook Yaa Crook is directed by David Dhavan. The film hit the floors in November 2008 and the whole cast and crew had shot in Hyderabad. Besides Shreyas and John, Genelia De'souza and M.S.Dhoni plays an important role in this film. The film is slated to release by September,2009.