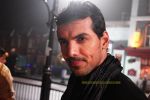 After the no-show that was No Smoking director Anurag Kashyap and John Abraham nonetheless vowed to work together come what may. But then Anurag went into Dev D with Abhay Deol and another film with Kunal Kapoor.
Now John and Anurag are back together in a film to be entitled Bombay Velvet.
Says Anurag, "John is the lead in my next film Bombay Velvet where he plays a real life hero of the masses from the 1960s.
It's a thriller based on real incidents. It's an idea that we developed over the last four years by several minds including the history professor Gyan Prakash ."
Bombay Velvet will be produced by TV 18. Besides John it will also star Naseeruddin Shah and KayKay Menon.
"I've never handled this kind of budget before. I want to be sure of the script. After No Smoking John and I want to make sure our film is accessible to the audience. Today I realize where I had gone wrong in my earlier cinema. I'm working on my weak points. I tend to get repetitive. So I've brought in two writers in Bombay Velvet who criticized me the most for No Smoking."
In-between Anurag had decided to make a no-holds-barred action film with Kunal Kapoor. A strange changeover of hero-giri considering John is built for the action routine.
"But that project Doga (based on the comics that are so popular in North India) to be produced by Sony International ( who entered the Indian market with Saawariya) requires a whole lot of preparation. It needs international –level special effects for which I need to go for internship to the US with my cinematographer Rajeev Ravi for some months. This would probably be the most expensive Indian film ever to be ever made. And I don't want to slip up. And Kunal needs to do a helluva lot of preparation.I'll go to Doga after Bombay Velvet,"informs Anurag.
At the moment Anurag is kicked by his deviant version of Saratchandra Chatterjee's Devdas . "In Dev D I've taken just the spirit of Devdas and woven it around contemporary headlines from the last 10-15 years. I never liked Saratchandra's novel. Often mediocre literature makes great cinema. What I liked about the novel was its honesty. But to me it's more pulp fiction of its times than great literature."
Anurag sees his Dev D as a bridge between the original novel and Sanjay Leela Bhansali's Devdas. "That's why I asked Sanjay Bhansali's assistant Vikram Motwani to write Dev D. Vikram loves Devdas. I connected newspaper stories to the character of Devdas to explore the motivations of today's youth."
One of the major themes in Devdas was miscommunication in a relationship. "In this era of sms that wouldn't work," explains Anurag. "Today my Dev and Paro are in touch regularly. The miscommunication here is due to the ego. Also alcoholism was a major issue back then. When Guru Dutt's Sahib Bibi Aur Ghulam was submitted for the Oscars the academy wrote a letter to Guru Dutt saying a woman who drinks was not a permissible taboo in their culture. Today alcohol isn't such a shocking means of selfdestruction in our society. I wanted to shoot my Devdas in a contemporary context. I shot it in Delhi and Punjab where the reckless adrift youth have a lot of money and no sense of responsibility."
Anurag who has a history of censorial run-ins, is surprised at how liberal the censorboard has been to Dev D. "They understood its theme. It's definitely an adults film with minor cuts . My target audience is 18-35. If there was and Over -15 censor certificate in India I'd have definitely applied for it. Censorship in India is not obsolete any more. Sharmila Tagore and Vinayak Azad have brought in a liberal element to the censor board."
Anurag says he wrote the roles of Devdas and Paro for Abhay Deol and debutante Mahi Gill. "Today I'm proud to say Mahi is working extensively in the biggest of films."
Speaking on our market abroad and how it has broadened after Slumdog Milionaire, Anurag says, "Films that show the real heartland in India like Johnny Gaddar, Manorama 6 Feet Under or my Black Friday never get released overseas. Slumdog Millionaire is the first taste western audiences have had of the real India. That's where filmmakers like Ashutosh Gowariker and Rakeysh Mehra come in. They shoot big-budget Indian films in the Indian heartland."
"I've mellowed. I'm not angry any more. I guess it's age. And I've found a sense of belonging," says Anurag referring to the other debutante actress Kalki in Dev D whom he shares a relationship with. "I'm very happy in my relationship with Kalki. She has brought great stability to me life."
So was she Anurag's muse, like V Shantaram? "No our relationship started after Dev D started. I want her in my life, but not necessarily in all my films."
Kalki plays a character derived from Saratchandra's Chandramukhi. "Again I'm happy for what Sanjay Bhansali did to Chandramukhi's character in his Devdas. He fleshed her out and much stronger than in the novel.