New Delhi, July 31 (IANS) The 'Unforgettable' world tour of the Bachchans, the 'first family' of Bollywood including Amitabh, son Abhishek and daughter-in-law Aishwarya, will skip Vancouver and finish the first phase in Oberhausen, Germany. Wizcraft International Entertainment, the organiser of the tour, parted ways with the Canadian promoters, Ethnic Guru, saying that the latter had failed to meet contractual commitments, a statement released here said.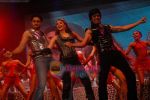 The organisers have also notified Ethnic Guru to refund the money of the sponsors and also of the people who bought the tickets. The tour kicked off with its world premiere in Toronto July 18, and is currently touring the US.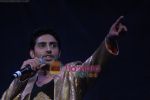 Several Bollywood stars like Preity Zinta, Riteish Deshmukh, composer duo Vishal-Shekhar and choreographer Shiamak accompany the Bachchans in the tour. The Bollywood stars will perform in London, Rotterdam in Holland and end the show in Oberhausen inn Germany.