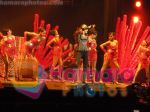 Mumbai, July 21 (IANS) The Bachchans' 'Unforgettable' tour got overwhelming response in Toronto and Amitabh can't stop raving about the "fantastic" crowds and their "energetic" performances. The show kicked off in Toronto Friday and along with Amitabh, his son Abhishek, daughter-in-law Aishwarya, actors Akshay Kumar, Preity Zinta and Riteish Deshmukh, composer duo Vishal-Shekhar and choreographer Shiamak Davar performed.
"It's a very well packaged show and the production was brilliant. The energy level of each performance was simply unbelievable," Amitabh told IANS on phone from Toronto. "And the crowds were just fantastic. Sold-out venue. We had to open up the tiers to accommodate those who could not get tickets. Fire marshals and security had a tough time keeping them on their seats. Not a moment to breathe, just one ecstatic moment after another."
"I am so happy for the kids – Akshay, Preity, Riteish, Vishal and Shekhar and Abhi and Ash and Shiamak and his tireless dancers. Everyone performed their heart out." The Bachchan family was given a green-carpet welcome in Toronto by Prime Minister Stephen Harper. "The Prime Minister sent his Secretary of State to greet us and welcome us to Canada. He sent me a wonderfully worded, framed letter through him – I feel so honoured and privileged when India and Indians get recognition."
After Canada, they performed Sunday in the Caribbean and their next stop is in the US. "The promoter from New Jersey came in to see the show and informed us that the show there is sold out, weeks in advance and New York is on its way to a sell out. This is unique for Indian show responses.
"Yes, I am old and have seen and been there but the enthusiasm of the youngsters and the unchanging allegiance of the fans is such a booster, I start feeling young again, once on stage. The Big B is enjoying the tour as it provides him an opportunity to be with his family. "We will be away for a while, but the entire family is together. We have not been able to be like this for a very long time. I love being in this state, so long as we are all together."
Commenting upon his missing baggage, he said: "The bags have been found and are with me now. The costumes came separately and were intact. Our first show in Toronto went off like a bomb. Incredible. Non-stop adrenalin. And what a crowd! Just fantastic. Thank you Toronto."
— By Subhash K. Jha