On Tuesday, Madhu Chopra, mother of Priyanka Chopra interacted with media about her upcoming Marathi movie 'Kay Re Rascala' which is produced by Priyanka's production house Purple Pebble pictures in Mumbai. While speaking to the media, Madhu Chopra stated that biopic on the life of Priyanka Chopra will be boring as she is leading boring life.
When asked her about whether biopic should be made on her daughter's life, Madhu said, "I can't comment about the film but I feel book should be written on her life because her journey and thoughts are very inspirational and I feel today's generation can take something from it which will be beneficial to them in future. She has lived only one third of her life. In her life, nothing interesting has happened till now. She is leading most boring life and filmmaker who will decides to make film on her life will also piss off when he thinks of making film on her because she only goes for work and returns home from work therefore her biopic will be very boring".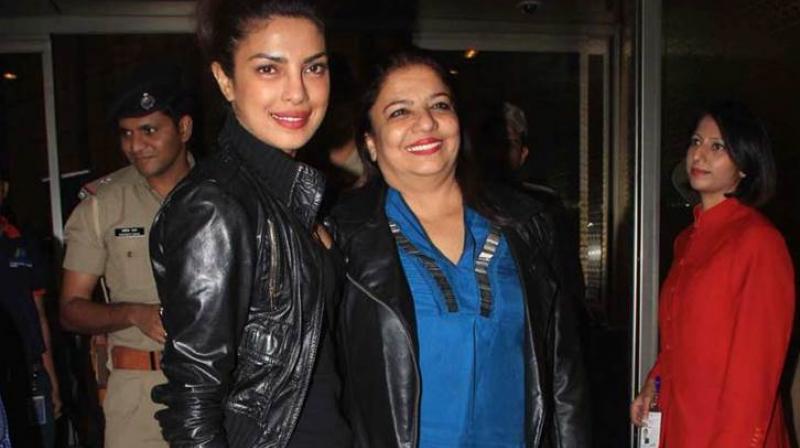 Talking about her next Marathi production, Kay Re Rascala, Madhu said "Last time with our Marathi film Ventilator, we made audience emotional so this time around, we thought of bringing smile to their faces. It's a light-hearted comedy film. It will be completely mass and family entertainer which is completely opposite of Ventilator."
"The film is about two protagonists, in this film, it has shown that how the two characters with their smart talks cheat people and earn money. Its con movie but it comes across as very innocent one. Their earning starts from 10 Rupees but it goes up to 10 lakh".
When asked about Priyanka's involvement in her production house, she said, "She is tremendously involved in the process of filmmaking right from taking creative decisions, to reading each and every script, short listing scripts and taking final call about which script should be made into film. She also monitor first cut of the movie and if she doesn't get satisfied with it then she makes changes in the film. She has complete creative control over entire filmmaking process. We have decided that all monetary transactions will be handled by me and all creative calls will be taken by her."
Talking about their production house upcoming projects, Madhu said, "Now we have completed one Bhojpuri film titled Kashi Amarnath. It stars Ravi Kishan and Dinesh Lal. In the film, it is battle between ethics, principles and social issue. It's a very different Bhojpuri film than typical Bhojpuri films. We have also completed our Sikkemese film Pahuna which will release on Dushhera and now after that we are starting a Bengali, Malayalam and Assamese film which will go on floors either by end of this year or early next year".
Madhu also revealed the reason behind producing films which are based on north-east region of India, she said, "Since the time, Priyanka acted in Mary Kom, she started liking and developing interest in these states. She is also tourism ambassador of Assam. When she was there, she like some interesting local stories and met some local people so we decided to explore that region that many people doesn't have much knowledge of and she felt it is our duty to make films on their subjects as well".
Kay Re Rascala is directed by DOP Giridharan Swamy who is making his debut as a director with this film.
It is releasing on 14 July, 2017.