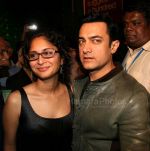 New Delhi, July 7 (IANS) Amitabh Bachchan, Aamir Khan and Ajay Devgan are among the many celebrities who have become avid bloggers. So much so that ad men and web experts say blogs are an effective tool of advertising and stars are using it well to promote themselves."A blog is a successful means to advertise oneself. In fact, it is not only an effective medium to advertise yourself but to express yourself," ad man Prahlad Kakkar told IANS over phone from Mumbai.
Vivek Bahl, associate vice-president (marketing) of social networking site Ibibo.com, seconds Kakkar's view. He said: "Yes, a blog can be very successful as a means of self promotion since it provides them direct access to the people."Bahl sees no harm in celebrities using blogs to promote themselves. "Why not? It provides good visibility, but a celebrity should be clear about what he or she wants to do with the blog," he said.
Actress Gul Panag, a blogger herself, also feels that it is okay to use blogs for self-promotion. "If bands and artistes can use so many means to promote themselves, why not blogs?"Celebrities have taken to blogging because blogs are essentially websites where they can post their views and enhance them with graphics and videos. It also enables them to receive reactions and replies from audiences directly.
At times it is hard to believe that celebrities really write their own blogs, considering the fact that a busy star like Amitabh has time to write 900-word long blog entries."Well they should get others to write for them, they can dictate or just approve what someone has written," Kakkar suggested.
But then is it a good idea to employ ghost writers when people actually believe that it is their favourite celebrities they are interacting with?"Not ghost writers, but getting someone else to write is a good idea for someone who is computer illiterate like me," quipped Kakkar.
Sidharth Roy, chief operating officer of bigadda.com that hosts Amitabh's blog, said: "A blog is a social platform for an individual to put forward his or her views, what they write on it is completely up to them as long as the content is not abusive."He added that celebrities aren't given any special treatment when it comes to blogs. "If you see comments on Mr. Bachchan's blog, you will read everything – good, bad and the ugly things."
However, a certain degree of monitoring is done when it comes to the content of blogs."Yes, the content is monitored but then everything is okay as long as it is not abusive in nature," Roy said.Bahl seconded Roy. "As long as someone else is not interpreting the blog wrongly there is no need to monitor it, the celebrities write whatever they want to," he said.
But it is important for celebrities to write regularly to keep the readers' interests alive."If a celebrity does not update his or her blog, the readers' interest would soon die," Bahl said.
However, Gul thinks otherwise. "I use my blog as a form of self-expression and if I can't post because I'm busy shooting or for some other reason, I do not owe an explanation to any one," she said.