Saakshi Tanwar and Ashutosh Rana will be seen on silver screen for the first time in a film called Coffee House. The film is directed and written by Gurbir Singh Grewal. The film represents the youth, unemployed and retired senior citizens. Besides Saakshi and Ashutosh, two new actors will also be the part of this – Neha Mishra and Aman Dhaliwal.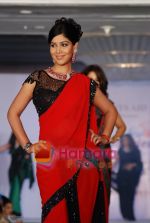 The event was held in Axis Bank, Lokhandwala, Andheri. The most important man who earlier was not recognized in the event was director Gurbir. But later on everyone took an interview of this director. The main attention of the press meet was Saakshi Tanwar, who is hardly seen in parties. She was dressed very simple as she had worn pista color Punjabi suit and was quite excited for giving the interviews.
Saakshi Tanwar plays the character called Kavita, who is Ashutosh Rana (Kamal)'s wife. We spoke to Saakshi about her role, "The main role is of Ashutosh Rana who plays the character called Kamal. He is associated with theatre group and also owns of newspaper."
While the two debutants Aman Dhaliwal and Neha Mishra were just busy posing for the photographer's. After giving a lot number of clicks for the paparazzi, the two new comers were spending time together while the rest of star cast arrived little late.
The film is releasing on 17th of April.