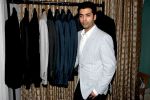 Karan Johar's Dharma Productions on Monday evening formally announced its exclusive worldwide distribution deal with UTV Motion Pictures for two of its upcoming releases – Wake Up Sid and Rensil D'Silva's yet untitled Saif-Kareena and Vivek starrer.
W

hile news has begun to spread since last few days that the deal is of Rs. 60 crore for these two films together, our trade sources inform, it is actually much bigger. For both these films releasing in the second half of 2009, the deal that has been struck between KJo and Ronnie Screwvala is of Rs. 80 crore Both the films are slated to release in the second half of 2009.
At the press conference held in a Mumbai star hotel on Monday 9th March evening the deal was formally announced but without revealing the money. The media was told, this deal includes, theatrical, home video, overseas, satellite and all other new media and distribution rights excluding music, together for the two movies. The break up that our trade sources have revealed to us is as follows – Wake Up Sid amounting to Rs. 28 crore and Rensil D'Silva's untitled next for Rs. 52 crores.
Speaking to us at the press conference, Karan Johar said, "It marks a new phase for Dharma Productions as we enter into an association with UTV. I am very impressed by their body of work and they have proved themselves repeatedly. My both these films are not typical Bollywood films churned by our production house earlier and I am confident UTV will promote them perfectly just the way they have done last year with off beat subjects like Aamir, A Wednesday and Welcome To Sajjanpur."
UTV CEO Ronnie Screwvala stated, "I have always been impressed by Karan Johar. He has a great vision and has his feet still firmly rooted on the ground despite such mega successes. What I also like about him is that he is constantly keeping a tab of changing tastes of audiences. We are thrilled to start what we hope is the beginning of a long relationship with Dharma Productions."
Dharma's association with UTV has marked the end of its long standing distribution alliance with Yash Raj Films. But Johar is quick to clarify, "Yash Raj has distributed my films in the past but now they have taken a conscious decision to distribute only their own films and I respect that. But my association with UTV should not be seen as a breakaway from Yash Raj. They are family and shall always be."