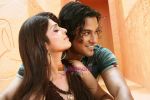 'Dhoondte Reh Jaoge' which releases on March 6th promises to be a laugh-a-thon. And the unique twist in the tale is that the movie spoofs 'Sholay', 'DDLJ' and 'Lagaan' in a different way. The movie which stars the pair which has been linked up for a while- Kunal Khemu and Soha Ali Khan along with Sonu Sood, Paresh Rawal, Deepal Shaw, Johnny Lever and Asrani has already caught the attention of the public with some interesting promos.
In the movie though, it seems Soha has been paired with Sonu and not Kunal.
Director Umesh Shukla feels that the audience will find the whole thing entertaining.
He's said, "DRJ is a film based on the entire process of filmmaking and Bollywood as a whole. It isn't based on any one particular story as such, so the viewer is taken on a joy ride while this film is being shot…as DRJ is based on films, we have a film within our film that is being shot. The title of that film is 'Sholay Se Lagaan Tak'. We are not trying to spoof these classics in anyway."
He's added, "We have certain scenes that are re-enacted from these classics, but in no way do we want to offend anyone's feelings. Besides once the film is released and the story seen, will you actually understand what I mean! Besides this, these scenes have been done so aesthetically that even the makers of these respective films will have a laugh at DRJ and I am sure will not mind a bit."
Things are in a bad shape in the world and the director is hoping that the movie lightens up the moods of people a little bit.
He's states, "DRJ is going to be a big stress buster this season and I am certain of that. So apart from including three classics, DRJ also has the humour to tickle the audience's funny side. Today when everything has become so intense with the rising prices and the recession coupled with the mounting exam tension, DRJ offers a much needed reprieve from the daily stress and strains in life."
We wonder if this movie will do something great or will fizzle out like another previous small time but ambitious comedy of Soha's (who's almost becoming synonymous with films like these)- 'Dil Kabbadi.We hope for the best for Saif's perky sister's sake.