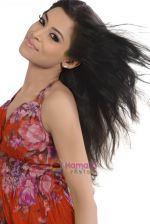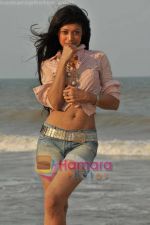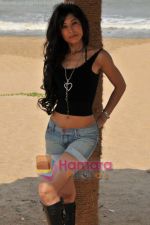 The gorgeous and sexy Dhwani Mittal is all set to start in her debut international film titled "The Three Kings". The film is loosely based on the life of Parveen Babi and also has characters resembling noted film personality Mahesh Bhatt and Madhur Bhandarkar.
The film also stars sexy bombshell Shikha Puri who will play the role of Parveen Babi. While Dhwani Mittal refused to comment on her role in the film saying that she has yet to finalise things, her publicist Flynn Remedios confirmed that she was doing the film.
Dhwani who is a veteran model has done shoots for Seasons, HSBC, Crossroads, Spykar Jeans, Oriflame and has appeared on the cover of magazines like New Woman, Digit, besides featuring in commercials for L'Oreal, Wellas Hair Color, Exile jeans, The Mobile store, Gold gym, GABANNA, Sudarshan Silk House, Jealous, Hypercity to name a few.
She has also done remix music videos for T-Series and Tips as a model. Her ramp and fashion assignments include Hong Kong Fashion Week, Lakme Fashion Week, Blackberry, Gucci, Armaani, Lee, Pacco Rabane, Emilo Pucci, Wrangler, Hutch, L'Oreal, Contolono Espadila, VIP Luggage, Airtel, Zara and various other international brands. In short, Dhwani Mittal has walked the ramp for most of the international labels, which is a feat in itself.
Dhwani is also doing a movie with Vinay Pathak and has acted in several south films.