Dino Morea, MS Dhoni bond over bikes on 12th july 2015. Dino Morea and the Indian Cricket team captain, Mahendra Singh Dhoni, who have known each other for several years now, have more in common than their love for fitness and share a passion for swanky bikes too.
Dino Morea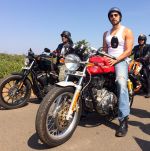 Mahendra Singh Dhoni
In fact, sources reveal how Dino was extremely impressed with Dhoni's collection of Yamaha RD 350 bikes which also inspired him to get one for himself. The bike enthusiasts – Dino and Dhoni also shot an ad for an oil company recently that has been receiving overwhelming response.
A source informs, "Both Dino and Dhoni are crazy about bikes and likes going for long distance ride. During the ad shoot, they spoke enthusiastically about bikes and the technicalities including engine, power, speed etc. Apart from that Dino also consults Dhoni when it comes to bike and they are often meeting and discussing on the same."
Dino informs, "From the time I first met Mahendra Singh, a few years ago, until now, whenever we meet, it's always a fun time. He has a great sense of humour. I have worked with him on a few occasions too, and as everyone knows, he is a thorough professional. We also enjoy each other's company and also plan road trips"