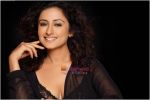 What's up with Divya Dutta? The actress who's played decent character roles in the past suddenly decided to glam up in 'You, Me aur Hum'. More recently in 'Delhi 6' she played the interesting character of 'Jalebi'.
Now she's cozying up to a female actor on screen in the film 'Monica' and is taking the challenge head on. The movie is about two struggling and vulnerable women who find solace in each other.
Before Divya many actresses had turned it down simply because they did not want to do the lesbian scene. In the past only actresses like Nandita Das and Shabana Azmi in 'Fire' and Amrita Arora and Isha Koppikar in 'Girlfriend' have shown some guts.
By the way, it wasn't all that easy for Divya too as she was initially at a loss when she was told that she has a lesbian scene with co-star Kitu Gidwani.
But like a true blue professional she decided to do the scene.
The actress told a website that she approached the scene very professionally and discussed it with Kitu before the shoot. She really prepared herself mentally too for the same.
She's said, "I mentally prepared myself. I was just an actor playing a character."
Apparently, the scene turned out very well, shot aesthetically and isn't vulgar or titillating.
Let's wait and watch to see if it gives Divya a career makeover or not.