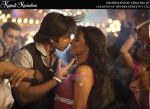 Mumbai, July 16 (IANS) After five years, director Aziz Mirza returns to the film world to tell the story of an architect struggling for his big break in "Kismat Konnection", which is releasing Friday. Mirza's daughter Rahila has scripted the film that mainly talks about the role that luck plays in one's life. In the film, luck plays an important role in shaping up Shahid Kapur's career. The film also has Vidya Balan who becomes Shahid's lucky mascot. Mirza's favourite Juhi Chawal too plays an important role.
The story goes like this: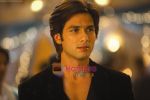 Raj Malhotra (Shahid) is a bright young man who cleared his architecture course with flying colours. Despite a best-student trophy from his college, he's struggling for his big break. It's almost as though some negative kismat (luck) is following him around because whenever something good is about to happen, it seems doomed to fail.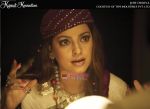 Desperate to fight this cussed kismat, Raj meets a quirky oracle Hasina Bano Jaan (Juhi Chawla). She tells him that soon his stars will change and make everything work in his favour, but for all this to happen, Raj has first to find his lucky charm and never let go of it. But she refuses to give details, leaving Raj mystified, trying to figure out what this charm could be.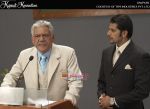 But after his meeting with Hasina, Raj's finds his life going on the right track. He not only manages to convince top builder Sanjeev Gill (Om Puri) to give him a prestigious project, he also meets Priya (Vidya), an idealist who sees life in black and white. Shades of grey have no role for her. She will give her all to her causes, her people and her love and expect nothing less in return.
Raj manages to win her heart and also opens her eyes to her philandering fiancé (Amit Verma).
Are all these positive things an indication that Raj has unwittingly discovered his lucky charm?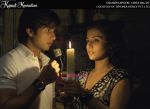 This is for the first time that Shahid and Vidya are working together. Their pairing has generated curiosity in the film circuit, which is going to help the movie. Pritam Chakraborty has composed the music and some of the songs are already chartbusters.
Mirza's last venture "Chalte Chalte" with Shah Rukh Khan and Rani Mukerji was a big hit. So expectations from this maker of light-hearted romantic comedies are high.