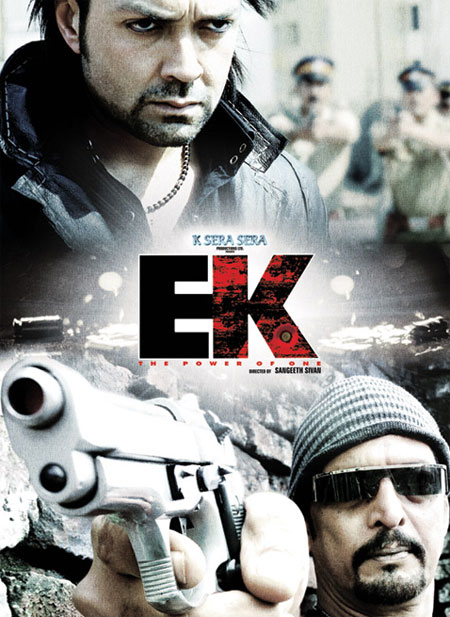 Nandu (Bobby) and Shekhar (Pradeep Kharab) are childhood pals who have taken to crime and contract killing at a very young age. They get mentored by a goon Sawtya (Jackie Shroff) during their growing up years. Now as grown ups, Nandu becomes the most dreaded assassin in town and Shekhar his accomplice who always helps him in getting away from the scene of crime within minutes.
Rating: 2/5
Starring: Bobby Deol, Nana Patekar, Shriya Saran, Priti Bhutani, Kulbhushan Kharbanda, Raghuvir Yadav, Pradeep Kharab, Zarina Wahab
Director: Sangeeth Sivan
Opposition leader Anna Mhatre (Sachin Khedekar) to create a sympathy wave for himself in the forthcoming Vidhan Sabha elections hires Nandu to make a false attack on him. According to the plan, Nandu aims a shot on Anna's arms who is addressing a huge political rally but before he shoots, a bullets zips through Anna's forehead killing him instantly.
Now the Police present on the scene see Bobby fleeing and think of him as the assassinator. When he tries to reach for Shekhar's car, he sees it getting blown up after it hits a petrol tanker. Chased by cops Nandu enters a train heading towards Punjab.
In the train Nandu meets Puran (Akshay Kapoor) who is going back home to Hoshiyaarpur after 18 years since the time he had runaway as a kid. The talkative Puran narrates in short time everything about his home and shows Nandu his souvenirs from home. Just then Police arrives and in the commotion that ensues mistakenly shoot Puran.
Nandu yet again succeeds in fleeing the scene. He heads straight to Puran's house but is mistaken as Puran by his family. Unable to reveal the sad truth, Nandu starts staying in their house impersonating Puran. There he encounters Puran's childhood love Preet (Shriya). He takes it upon himself to solve all the problems that Puran's family is facing.
But his happiness is short-lived as a quirky but intelligent CBI officer Nandkumar Rane (Nana) hot on trail to nab Anna Mhatre's assassin lands up in Hoshiyaarpur at Puran's doorsteps. What follows next forms the rest of the film wherein many secrets get revealed some shocking, some not so shocking.
Remake of Telugu super hit Athadu starring Mahesh Babu, Ek- The Power of One mixes the plot of many films together.
The basic plot of the hero responsible for an innocent man's death going to his family's house and staying with them without them knowing about his true identity was first explored in Rajesh Khanna starrer Dushman followed by Akshay – Saif starrer Keemat.
Then again, the whole political assassination drama and even the suspense angle of it is ditto similar to Salman Khan – Sushmita Sen starrer Tumko Na Bhool Paayenge. Nana Patekar's 'chaaloo' cop who knows his line of duty is a little naughtier version of Om Puri's cop character in Rajiv Rai's Gupt which also incidentally had Bobby being chased for murder. But the mixed khichdi of a plot works to an extent here. But its more thanks to the technical finesse and twists and turns plotted at regular intervals, superbly shot action scenes and of course Nana Patekar.
But where the film falls down is in the pacing that drops down when Bobby arrives to Puran's house. The whole joint family thing with all the irritating characters thrown in simply grates on your nerves after initial few minutes. Too much time is wasted on unnecessary and predictable sub-plots. The film could have well done without 30 minutes that are wasted on all this and it could have ended up as being a nice taut thriller.
Bobby acts well and has efficiently performed his own daring stunts. Shriya Saran doesn't have much to do but look pretty and make faces at Bobby. Kulbhushan Kharbanda who was a delight to watch in last week's Aloo Chaat is saddled with the typical Punjabi grandfather's role.
Zarina Wahab seen after a long time hardly gets any scope. Jaspal Bhatti and Sanjay Mishra both irritate you to death. Priti Bhutani playing Puran's sister act well and looks good too. Jackie in a small role impresses but Chunkey Pandey gets on your nerves in his special appearance with his fake Punjabi accent. Raghuvir Yadav as the wily politician is good as usual.
The biggest star of the film however is Nana Patekar. The openly flirtatious cop with his crazy one-liners justifying his womanizing is extremely hilarious. In fact you keep waiting for him to arrive whenever his character goes off screen.
The film is aimed at the masses but could have been a better one had some loose end taken care of and the narrative kept tight. But it is not a bad film and may work well for you if you literally have nothing else to do and go in without any expectations.
Also Read
"It was a challenge to make EK – THE POWER OF ONE" – Sangeeth Sivan
Ek – The Power of One – Movie Stills