Elena Kazan, who has already worked with Saifu in Agent Vinod, is in a very jovial mood and why wouldn`t she be? She has two releases, the highly anticipated Prague and JohnDay, lined up this year.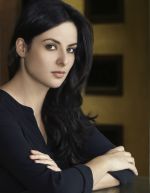 According to the sources, everyone was very supportive of the actor. Elena who is an out and out professional, was very cozy on the set and every good take was naturally applauded. Having worked with the likes of Naseeruddin Shah, Chandan Roy Sanyal and Randeep Hooda has surely helped her grow as an actor. This seems to be a very busy time for her as she is promoting Prague, a psychological thriller.. She has very high expectations with the film
.
Prague, deals with the story of a desi guy who goes to Prague for an architectural project and meets a girl and all hell breaks loose. The movie has many soothing songs and a few peppy numbers.
After Kat and Jackie, Elena is set to be the latest videshi gal to knock the socks off the prudish audience.