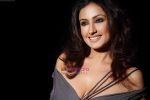 Well, after all the praise for her stupendous performance in 'Delhi 6' Divya Dutta sure seems to be on a high. The actress has not only been praised by her friends and colleagues but also by her audience and critics.
We hear that the actress has been flooded with calls and messages by her fans who tell her "Jalebi, Mujhe Mard Bana De" which happens to be a dialogue in a movie.
"It's funny that people have caught on to that dialogue But I'm glad that people have appreciated my performance. This role was a challenge and wouldn't have got the recognition it has without Rakyesh's help and constant encouragement. I want to thank everyone for all their love and support." says the talented actress.
Way to go Girl.