Dharmendra, Sunny Deol, Booby Deol, Sonali Kulkarni, Shreyas Talpade and Samiksha Bhatnagar launched their upcoming film Poster Boys trailer which is official official remake of Marathi film Poshter Boyz on Monday in Mumbai. During media interaction Bobby Deol spoke about how it feels for having no work for long period of time and stated that every actor's biggest fear is to have no work for the next day.
In an recent interview, bobby said that, he wanted to do so much of work but he didn't realize that how suddenly roles started to slipping away from him so when asked him is it difficult state to be in, to that Bobby replied, "As an actor you want to work on everyday of your life. When I did this film, I was so excited because of the script and my character mesmerized me a lot. While working on the this film everyday was amazing day so for every actor the biggest fear is to have no work for the next day but you have to work hard, look positive, think positive and work just starts coming towards you"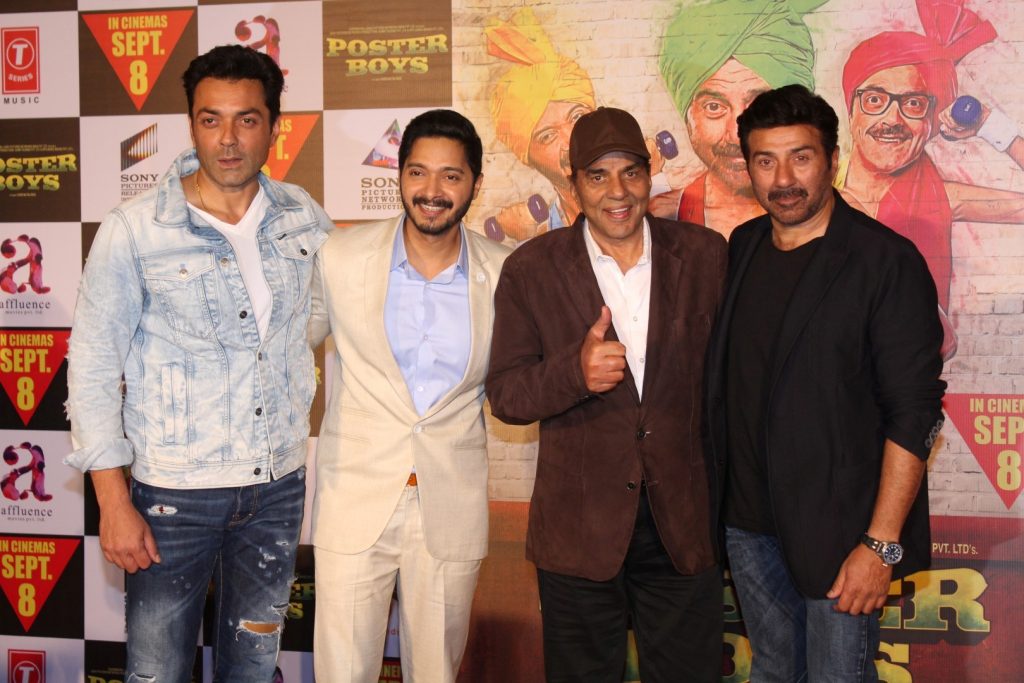 Bobby also commented on whether it is easy for star kids to sustain in the industry, Bobby said, "It's just the way media portrays celebrity kids when they coming into movies. I don't think it is easy for anyone. You can be star child or just a normal child coming from totally non-filmy family but you still have to work hard. Luck also plays part in it but you still you have to think positive and positive attitude get something positive".
Talking about his future projects, Bobby said, "I was looking for some great scripts to come my way. When I heard this film from Sheyas, it excited me a lot so I just want to do films which I enjoy doing it and I know people also going to enjoy it when they come to watch it. I am trying to do more films now. I am doing YPD 3 (Yamla Pagla Deewana) now which will start soon so I hope when people will watch the film I will get some more work".
Bobby Deol playing Hindi teacher in Poster Boys, so when asked him he faced any difficulties portraying that character, he said, "When I heard the script that time I was bit scared as I had to speak Pure Hindi for this film. It was big challenge but that's what fun of the whole character was to speak in Hindi. Me and Shreyas sat and did lot of workshop together while working on it. Shreyas knew all the dialogues, it was incredible that he knew everybody's dialogues so I told him that you say it instead of me in Hindi which was difficult but fun at the same time".
Poster Boys will mark debut of Sheyas Talpade as a director it is going to release on 8 September, 2017.