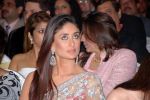 It is learnt from reliable sources that Kareena Kapoor has finally patched up with the Bachchans now. Few days back it was wrongly reported in a Mumbai tabloid that the actress had ignored Amitabh Bachchan at an event completely.
Infact a very close friend of the actress told us that Kareena is one person who will never do so in public. "She knows how to balance her professional life and personal life. She has never shown any animosity towards them. She has been born and brought up in this industry and the question of showing disrespect for the elders will never arise." the close friend said.
But now Mr. Bachchan has put all rumours to rest by writing in his blog that Kareena and family members as well as the Bachchan family have always given due respect to each other. Another source reveals, "Mr. Bachchan feels that Kareena is a very warm and affectionate person. She has never disrespected her elders. Mr. Bachchan has seen Kareena grown up in front of him as there has always been a huge connection between the Kapoors and the Bachchans from the great grand father times."
It is may be recalled that that the Bachchan family was not in touch with Kareena Kapoor after Abhishek Bachchan and Karishma Kapoor broke off their engagement. In fact Kareena and Abhishek had made their debut with J.P. Dutta's film Refugee. The duo had also received good reveiews for their performance.
But after their split Kareena and Abhishek Bachchan have never done a film. Sources had revealed that Abhishek Bachchan had refused to do films with Kareena though she was ready to work with him. In return Kareena had also refused to do Dostana with Abhishek when she was offered the film from Karan Johar.