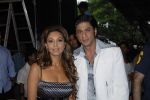 Shahrukh Khan who started his journey from television has started television production under the banner of Red Chillies Idiot Box. The objective is to provide entertainment keeping in mind the audiences taste. Comedy show Ghar Ki Baat Hai and Knight and Angels hunt for cheerleaders on NDTV imagine are talked about for their unique content.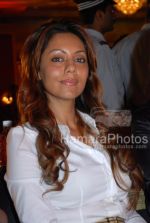 The First Ladies with Abu Sandeep produced by Red Chillies Idiot Box has Gauri Khan as the celebrity guest. The show is hosted by well known designers Abu Jani And Sandeep Khosla. It is aired on NDTV Good Times at 10 pm every Saturday.
She is introduced by the hosts Abu Jani and Sandeep Khosla as someone whose husband has the whole nation wrapped around his little finger while she has him eating out of the palm of her hand. She is a television and a film producer. She plays a Queen to her husband the 'King of Bollywood'. She is a closet interior decorator and a super mom and is also a style icon for women across India. Please welcome our guest for today one and only Gauri Khan.
When asked about Gauri and Shahrukh Khan being totally self made and it must be an incredible high to achieve so much at such a young age she said, "Absolutely, it's amazing and we thank god every day for whatever we have but I think Shahrukh is extremely hard working so he deserves every bit of it."
When asked if she was really the rock, the pillar behind Shahrukh she said, "actually that's not true because I was not too happy about him coming to Bombay and I didn't even know when he became a star it was very shocking for me firstly to be here and films and everything. It was very very difficult. And I actually did not want his films to do well. I thought if it flopped I should go back to Delhi. Because you know when you are so young and I got married when I was 21 everything was so new that for me it was like everything should flop."
Gauri further on Shahrukh added that, "he was always ambitious from his very childhood in his school in his college he has always been on top. Whether it was as a student; football, hockey, his theatre anything, for me whatever he would touch would be gold. I think I was smart to marry him. I think that's my smartness that I chose the right guy. "
You and Shahrukh met quiet early almost in the teens to which she said, "Yes he was the first person I met and went out with and he has been the only man."
When suggested that in India Shahrukh has done almost everything and it would be wonderful if he goes to Hollywood she said, "If today he says I don't want to act and be just a director or producer I'll be fine with whatever he's happy with. I'd rather have him home with the kids spend more time at home that would be better for me I think."
When asked if it was true that Gauri and Shahrukh had to fight to be together. She confirmed and said, "Yes my parents were obviously not for it because we were so young and then to take a decision to get married to a person who was going to join films and being from a different religion. We even changed his name to 'Abhinav' so that they feel he was a Hindu boy and that was really silly and childish."
When asked about her decision to leave everything from Delhi and follow the man of her dream she said, "It's been an amazing journey I would. When I came to Bombay it was very difficult I enjoyed every bit of it but it was so new and life was very different new people and new home. But we went back very often to Delhi in the beginning."
When asked where she put up in the early days in Bombay she said, "Mr. Aziz Mirza – we stayed at his place for 6 months it was very sweet of him and then we rented an apartment and there was nothing. My mom came from Delhi and there was no bed there was no sofa no chair just a kitchen. She was shocked to see me like that she said 'why don't you have a bed? Where is the chair?' so I said this is the 'Gadda' (mattress) sleep on this."
When asked if she remembers the date Shahrukh bought her the first diamond she said 'I bought it myself! I grabbed it actually I'm quite a grabber. He doesn't have to gift me anything.'
What's the one thing you love doing together, "Watching desperate house wives. He loves to watch that with me."
When asked if they miss the earlier days, the simple times, Shahrukh said, "No I don't miss them people ask me this question very often but I don't miss going and having 'chaat' in 'Gol Market', I've never wanted to eat pav bhaji on Chaupatty either I'm very happy being a star I love what comes with it I also appreciate the hard work I have to do for it and I don't want to wear dark glasses to hide from the world that I'm a superstar and I really enjoy it."