Actress Niharica Raizada, who was last seen onscreen in 'Total Dhamaal', has said that after stupendous success of an adventure comedy film at the box-office, she is getting exciting and interesting film offers from the Hindi film industry.
Niharica Raizada was interacting with the media during the launch of her very own personalised app in Mumbai.
Niharica Raizada starrer adventure comedy film Total Dhamaal has turned out to be an absolute winner at the box-office. Its total collection, after a 14-day run in cinemas, stands at Rs 132.60 crore and the film will touch Rs. 150 crore in coming few days.
When asked Niharica how her life has changed after being part of a successful film, she said, "After success of 'Total Dhamaal', I am getting some interesting and exciting film offers and I feel that's the biggest achievement for an artist. I did a very small role in the film but people recognised and appreciated my performance and I can say that I am definitely getting some benefits  of being part of a successful film.  I feel really proud when I tell people that I am a part 150 crore film and its a really big thing for me."
When asked Niharica whether audience will be able see her in fourth part of 'Dhamaal' franchise as 'Total Dhamaal' has managed to do really good business at the box-office, she said, "I don't have any idea of that. I feel director of 'Total Dhamaal' Indra Kumar will be better equipped to answer this question. As i have heard he is busy working on some other projects so, let's see it all depends upon him."
Talking about her personalised app, Niharica said, "It's a personalised engagement platform which is called Niharica Raizada app completely dedicated to my fans, followers, family and friends. All of them can download it from Google Play store and it will be available on App Store (iOS). I am really happy that from now onwards people can know what is happening in my life.
It is like my own 'Bigg Boss' show. Through this app, people will get to know everything about me. They will be able to know what are my food, shopping, travel, music, movie and fitness routine preferences. I feel it's a big thing because today I feel your social media interaction should be under your control because most of the times, there are lots of rumours about you as a celebrity so, if you have your app then, you can share your information as per your choice."
When asked Niharica whether she is ready to face trolling from people since she has come up with her own personalised app, she said, "I am definitely ready to face any kind of trolling. I feel trolling is fun because if people can troll me by posting their comments then, I also get an opportunity to give them an answer back in my style."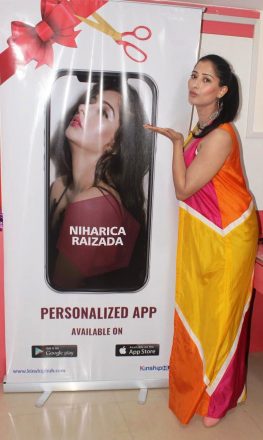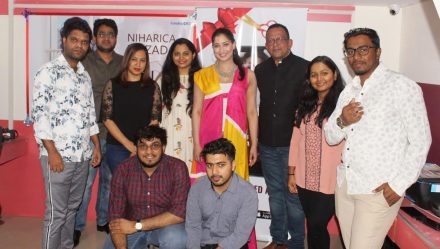 Besides, Niharica Raizada, 'Total Dhamaal' also featured Ajay Anil Kapoor, Madhuri Dixit-Nene, Arshad Warsi and Boman Irani