While Sanjay Dutt's unhappiness with his other recent films is well known he has come out of All The Best grinning ear to ear, and not just because it's comedy.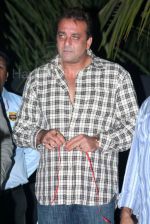 Director Rohit Shetty gets emotional talking about Dutt.
"You can't help being protective and affectionate about Sanjay. Once he accepts a film he adopts the whole unit. Sanjay was more like the producer of All The Best than Ajay Devgan.

In the evenings Ajay, Fardeen and the rest of the gang would be chilling out in Goa while Sanjay would sit with me poring over the next day's schedule. He was bothered about every thing, from the food for the unit to my travel plans. Whenever I had to leave the Goa location for Mumbai he would be anxious about my return flight."
Rohit can't understand how many recent films have misused or underused Sanjay Dutt. "He signs films for emotional reasons. And it's the director's moral duty to make sure his presence is justified. In All The Best Sanjay is the main protagonist."
Shooting down rumors that All The Best had to pay Rs 50 lakhs to jump the queue of releases Rohit says,
"When Aladin was postponed we got an opening and we decided to release in Diwali .We didn't have to pay any money to prepone .We never planned All The Best as a Diwali product. The colorful light frothy ambience just happened. It's my cleanest comedy since the first Gol Maal film. The other Gol Maal films had some double meanings. But All The Best is totally free of risqué elements."
He hopes all three Diwali releases would do well.
"I certainly want Blue to do very well. Its producer Asthvinayak are also the producers of my Gol Maal series. So their success is by proxy beneficial to my film."
Incidentally, Sanjay Dutt's character in All The Best is named Dharam after Dutt's business manager Dharam Oberoi.
— By Subhash K Jha